Other Resources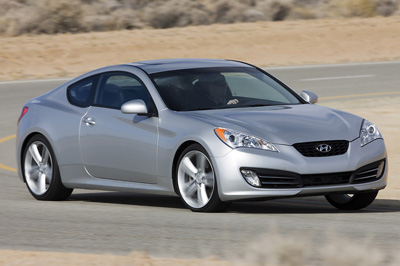 We don't just talk cars ... we teach how to buy them.

2010 Nissan Sentra Features, Info, Prices ...
And Best Buying Tactic




Related: How To Buy A New Sentra At The Lowest Price




The 2010 Nissan Sentra offers a surprising amount of cabin space, solid engine power and very good gas mileage performance. Its tall roof provides ample room for full-size adults while they enjoy a sporty interior with an attractively contoured steering wheel and distinctive orange backlighting.

While the new Sentra is also very competitive under the hood, this is a particularly crowded segment with strong rivals also worthy of consideration, including the Honda Civic, Mazda 6 and Hyundai Elantra.

New for the 2010 model year is the addition of an optional navigation system with a 5-inch color-display screen, real-time traffic and an optional back-up camera. All models also receive revised headlights and taillights, while individual model tweaks include a new grille and front fascia for the 2.0, 2.0 S and 2.0 SL, as well as a standard 4.3-inch color-display audio head unit with Bluetooth and iPod controls for the Sentra 2.0 SL and Sentra SE-R.

In addition, the 2.0 SL gains standard stability control, but loses its standard leather upholstery which is now optional. Lastly, the improved fuel efficiency provided last year with the "FE+" trim has been expanded to all 2.0-liter models with the continuously variable transmission (CVT).

Trims, Standard Features And Options:

The 2010 Nissan Sentra is available in six trims: 2.0, 2.0 S, 2.0 SR, 2.0 SL, SE-R and SE-R Spec V.

Standard features on the base Sentra 2.0 include power locks, power windows, air conditioning, 15-inch steel wheels, 60/40-split-folding rear seats and a 4-speaker stereo with a CD player and an auxiliary audio jack.

The 2.0 S adds cruise control, keyless entry, power mirrors, a trip computer, 16-inch steel wheels, driver seat height adjustment, steering-wheel-mounted audio controls and a 6-speaker audio system with MP3 capability, while the 2.0 SR gains an SE-R-based body kit and 16-inch alloy wheels at no additional cost.

Moving up to the 2.0 SL adds keyless ignition, satellite radio, 16-inch alloy wheels, overhead CD-storage and the 4.3-inch color-display audio head unit with an iPod adapter and Bluetooth.

Many of the SL's standard features are available options for the 2.0 S. Other available optional features for both the S and SL include heated front seats, a sunroof, a rear spoiler, a trunk divider and an 8-speaker Rockford Fosgate audio system with a 6-disc CD changer. In addition, leather upholstery is available on the SL. As is usual with Nissan, these options are often grouped together in more expensive packages.

The Sentra SE-R drops the SL's standard keyless start, satellite radio and steering-wheel-mounted audio controls (available as options), but adds 17-inch alloy wheels, performance-oriented suspension tuning, larger brakes, cloth sport seats, aluminum-trimmed pedals, a lower body kit, the SL's color-display stereo and oil pressure and G-force gauges.

The SE-R Spec V then trumps the SE-R with the addition of a still firmer and lower suspension, higher-performance tires, larger front brakes and sportier interior trim accents. However, it should be noted that the Spec V has a reinforcement brace that keeps the rear seats from folding.

Some of the options on both the SE-R and SE-R Spec V include a sunroof and the Rockford Fosgate audio system, however, keyless entry and ignition are only available on the SE-R, while a limited-slip front differential is only offered on the Spec V.

Later in the model year, a navigation system with real-time traffic will become an option for the SL and both SE-R models, as will a back-up camera.

Engines, Powertrain And Gas Mileage:

Powering Sentra 2.0 models is a 2.0-liter inline four-cylinder engine that generates 140 horsepower and 147 pound-feet of torque. Power is delivered to the front wheels via either a continuously variable transmission (CVT) or a 6-speed manual (only on the base 2.0). The EPA-estimated gas mileage for this engine with the CVT is a very good 26 mpg city and 34 mpg on the highway, while the manual comes in at 24 mpg city and 31 highway.

Under the hood of the Sentra SE-R models is a 2.5-liter four-cylinder engine. It's good for 177 horsepower and 172 lb-ft of torque on the SE-R and is paired with a CVT with manual shift control. The higher revving SE-R Spec V engine produces 200 horsepower and 180 lb-ft of torque and is paired with a 6-speed manual transmission.

The Spec V can go from a standstill to 60 mph in a very quick 6.7 seconds, although the additional power and performance reduces fuel economy, but only modestly. Gas mileage for the SE-R is rated at 24 mpg city and 30 mpg highway, while the Spec V still manages 21 and 28, respectively, although the V requires premium fuel.

Safety:

Standard safety features on every Sentra model include front-seat side airbags, full-length side curtain airbags and antilock brakes (except on the base 2.0 where it's optional). In addition, stability control is standard on the 2.0 SL, SE-R and SE-R Spec V models, but is not optionable on the other models.

In government crash tests, the 2010 Sentra scored a perfect five-star rating for front passenger protection in both frontal and side-impact crashes. It earned four stars for rear-seat side-impact protection.

Interior:

The Sentra's interior is distinctly "Nissan" with its trademark orange backlighting, sporty instrumentation and user-friendly features. The cabin is more spacious than one would expect and the materials quality is above average.

The seating is comfortable and supportive, both front and rear, while taller passengers are also well-accommodated due to its high roof line. The trunk's cargo capacity is also above average for this segment, coming in at 13.1 cubic feet.

Drive:

The Sentra's 2.0-liter engine is smooth, fairly peppy and gets the job done, although the CVT can get a bit noisy when accelerating. Overall handling is adequate, but nothing special, and ride smoothness is fine unless traveling over bumps or rough roads when it becomes somewhat harsh. Gas mileage performance is excellent, making them a solid choice for practical transportation.

Drivers who value additional power and performance will find the SE-R models perform quite well on those twisty back roads and tight corners. But it's the Spec V that is clearly the most engaging and capable.

How To Get The Lowest Price:

Best Negotiating Tactic: Well, there's definitely a 'best way' when it comes to new car buying. If you want to get the best bottomline, out-the-door price you need to know exactly who to talk to at the dealership, how to make the contact and how to make this person eager to quickly drop prices as low as possible to get your sale.

Here's the details on exactly how to get the best price on a new Nissan Sentra ... or any other car.

Also, For 'Used' Car Buyers ...

Those of you in the market for a used car may want to check out this article about how to buy a used car at the lowest price. It details a super effective buying method, one that often beats down prices to wholesale levels.

And somewhat related to this, here's another excellent method that identifies Price-Distressed Cars Right On Dealer Lots. These are vehicles they are so desperate to unload they would welcome your wholesale offer.

In addition, you can also try Bank Repo Auctions And Government Car Auctions in your own geographic area. While there can be a lot of junk vehicles at these auctions, there are often absolute gems sprinkled in as well. This article reviews what to expect at open-to-the-public car auctions and how to locate them at no cost in your own area.

Prices:

2010 Nissan Sentra:

2.0, manual: list price: $15,420, invoice price: $14,794
2.0, CVT: list price: $16,600, invoice price: $15,923
2.0 S, CVT: list price: $17,160, invoice price: $16,009
2.0 SR, CVT: list price: $17,160, invoice price: $16,009
2.0 SL, CVT: list price: $18,560, invoice price: $17,312
SE-R, CVT: list price: $19,580, invoice price: $18,260
SE-R Spec V, manual: list price: $20,080, invoice price: $18,725


Other Models Of Possible Interest:

Used Nissan Sentra Overview & Wholesale Strategies
2011 Nissan Sentra Features And Invoice Pricing
Nissan Maxima 2010 Overview And Pricing
Nissan Altima 2010 Review And Prices
Used Nissan Altima Buying Guide
Used Nissan Murano Wholesale Auction Sources
2010 Nissan Versa Overview And Invoice


Additional Models Of Possible Interest:

Used Nissan Versa Info & Best Price Tips
Used Nissan Rogue Overview & Wholesale Auction Info
Used Nissan Titan Truck Buyer's Advice
Used Nissan Pathfinder Auction Sources
Used Wholesale Nissan Xterra Sources
Other Nissan Model Overview & Best Buy Tips



Auto Broker Magic
West Palm Beach, Florida
Site Map | Disclosure
© copyright 2010 - 2013, Josh Rosenberg. All Rights Reserved.