Other Resources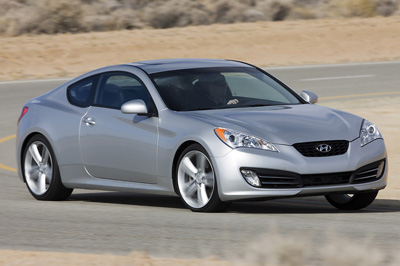 We don't just talk cars ... we teach how to buy them.

2010 Nissan Versa Features, Info, Prices ...
And Best Buying Tactic




Related: How To Buy A New Versa At The Lowest Price




For an "economy car", the 2010 Nissan Versa has much to offer, such as a roomy and comfortable interior, great gas mileage, a nice drive, huge trunk and available high-end features not typically expected in this price range. This is a very practical vehicle and a solid daily commuter.

The Versa's appeal is further enhanced with the choice of either sedan or hatchback body styles to better fit a particular user's needs. And while the most budget-conscious shoppers can get a stripped down Versa for around $10,000 (the cheapest 4-dour on the market) and enjoy a break at the pump with up to 34 mpg on the highway, other Versa models with similar fuel economy can still be had at affordable prices with more upscale amenities such as keylss entry and ignition, satellite radio, Bluetooth and iPod integration.

While the 2010 Versa earns high scores for comfort and value, one shouldn't expect much in the way of driving excitement, however. Although the Versa has competent handling and even somewhat surprising acceleration power, those who value more of a "fun-to-drive" experience may be better off with the Mazda 3, Honda Fit or Kia Soul, albeit pricier choices.

New for the 2010 model year is the addition of antilock brakes as a standard feature on 1.8 S and 1.8 SL models. In addition, all Versa models received a new grille design and foglights are now standard on the 1.8 SL. And later in the model year, navigation will be available as an optional feature for the Versa SL.

Trims, Standard Features And Options:

The compact 2010 Versa is offered in 4-door sedan and hatchback forms. Both the 1.6 Base and 1.6 trims are sedan only.

Standard features for the no-frills 1.6 Base are fairly sparse and include a tilt steering column, intermittent washers and 14-inch steel wheels, while the 1.6 adds air-conditioning.

Opting for the hatchback or sedan 1.8 S trim adds power mirrors, a 4-speaker audio system with a CD player and auxiliary audi jack, air-conditioning, 15-inch steel wheels and a 60/40-split-folding rear seatback on the hatchback. The Power Plus package for the S includes power locks, power windows, cruise control, remote keyless entry, rear door map pockets and a door armrest pad.

The top-of-the-line Versa 1.8 SL comes with everything in the Power Plus package, plus alloy wheels, driver seat height adjustment, 60/40-split-folding rear seats on the sedan, foglights, upgraded seat fabric, a front center armrest with storage and rear-seat center armrest, and an upgraded 6-speaker audio system with speed-sensitive volume control and an iPod interface.

There's also a number of optional packages available for the SL for those who like extra goodies. A Convenience package for the SL sedan includes a leather-wrapped steering wheel with audio controls, keyless ignition, keyless entry and Bluetooth. The SL hatchbacks can be outfitted with a Premium package that adds everything in the Convenience package plus 16-inch alloy wheels. The Moonroof package is also offered on SL hatchbacks and includes dual illuminated visor-vanity mirrors in addition to the sunroof.

Finally, both SL sedans and hatchbacks have an optional Navigation package (late availability) that adds a navigation system, satellite radio and an audio USB port.

Engines, Powertrain And Gas Mileage:

The front-wheel-drive 2010 Nissan Versa comes with a choice of two engines. Powering the Versa 1.6 Base and 1.6 sedans is a, not surprisingly, 1.6-liter four-cylinder engine that produces 107 horsepower and 111 pound-feet of torque. The 1.6 Base comes only with a 5-speed manual transmission. The 1.6 comes with either the standard 5-speed manual or optional 4-speed automatic.

Under the hood of the other Versas is a 1.8-liter four-cylinder that's good for 122 horsepower and 127 lb-ft of torque. The Versa S comes standard with a 6-speed manual or the optional 4-speed automatic. The 4-speed automatic is standard on the Versa SL sedan, while the Versa SL hatchback comes equipped with a continuously variable transmission (CVT) that improves both performance and fuel efficiency.

The EPA-estimated gas mileage for the 1.6 manual comes in at an impressive 26 mpg city and 34 mpg on the highway. The automatic is rated just slightly lower at 26 and 33, respectively. An automatic Versa 1.8 is rated at 24 mpg city and 32 mpg highway, while the Versa SL with the CVT gets the overall best mileage at 28 city and 34 highway.

Safety:

All 2010 Versas come standard with front-seat side airbags and full-length side curtain airbags. In addition, antilock brakes (ABS) with brake assist are standard on S and SL models and an available option on 1.6 Base and 1.6 models, while stability control and traction control are standard on SL models and optional on S models.

In government crash testing, the 2010 Versa earned four out of five star ratings in all frontal and side-impact protection tests for all occupants.

Interior:

The Versa's cabin is surprisingly spacious with generous headroom due to its tall roof and ample legroom for even 6-foot passengers, both front and rear. In a pinch, a fifth occupant can be squeezed into the rear middle seat, but this would be very tight over a long trip. While the overall look of the interior may be on the bland side, the quality is quite high for a vehicle in this price range and the controls are easy to see and user-friendly.

Unlike pricier rivals like the Honda Fit, the split rear seat of the Versa hatchback doesn't fold down even with the floor. However, lowering it still provides a significant 50 cubic feet of cargo capacity. And trunk space for the sedan comes in at 13.8-cubic-feet, quite large for this segment.

Drive:

The 2010 Nissan Versa is engineered to emphasize comfort over sporty performance and does a very good job handling roadbumps and rough spots. Acceleration is also fairly quick for this segment. The manual 1.6 Versa goes from a standstill to 60 mph in a respectable 9.5 seconds. That's faster than the Honda Fit's 10.2 and matches that of the Hyundai Accent. With either engine, the Versa possesses competent, yet not particularly athletic, road manners both in the city and on the highway. For car shoppers seeking practical transportation and great gas mileage, the Versa delivers.

How To Get The Lowest Price:

Best Negotiating Tactic: Well, there's definitely a 'best way' when it comes to new car buying. If you want to get the best bottomline, out-the-door price you need to know exactly who to talk to at the dealership, how to make the contact and how to make this person eager to quickly drop prices as low as possible to get your sale.

Here's the details on exactly how to get the best price on a new Nissan Versa ... or any other car.

Also, For 'Used' Car Buyers ...

Those of you in the market for a used car may want to check out this article about how to buy a used car at the lowest price. It details a super effective buying method, one that often beats down prices to wholesale levels.

And somewhat related to this, here's another excellent method that identifies Price-Distressed Cars Right On Dealer Lots. These are vehicles they are so desperate to unload they would welcome your wholesale offer.

In addition, you can also try Repossessed Bank And Government Car Auctions in your own geographic area. While there can be a lot of junk vehicles at these auctions, there are often absolute gems sprinkled in as well. This article reviews what to expect at open-to-the-public car auctions and how to locate them at no cost in your own area.

Prices:

2010 Nissan Versa:

1.6 Base sedan, manual: list price: $9,990, invoice price: $9,759

1.6 sedan, manual: list price: $11,090, invoice price: $10,828
1.6 sedan, automatic: list price: $12,090, invoice price: $11,800

1.8 S sedan, manual: list price: $13,350, invoice price: $12,884
1.8 S sedan, automatic: list price: $14,350, invoice price: $13,846
1.8 S hatchback, manual: list price: $13,400, invoice price: $12,933
1.8 S hatchback, automatic: list price: $14,400, invoice price: $13,894

1.8 SL sedan, automatic: list price: $16,350, invoice price: $15,769
1.8 SL hatchback, CVT: list price: $16,780, invoice price: $16,183


Other New And Used Models Of Possible Interest:

Used Nissan Versa Overview & Buying Guide
2011 Nissan Versa Features And Invoice Price Review
2010 Nissan Altima Pricing And Feature Review
Nissan Rogue 2010 Prices And Features
Nissan Cube 2010 Review And Invoice Prices
Nissan Sentra 2010 Overview
Used Nissan Altima Info & Wholesale Sources


Additional Models Of Possible Interest:

2010 Nissan Pathfinder Features And Invoice
Nissan Maxima 2010 Review And Pricing
2010 Nissan Murano Overview And Invoice
Used Nissan Maxima Overview & Auction Sources
Used Nissan Sentra Info & Best Price Strategies
Used Nissan Overview & Wholesale Opportunities



Auto Broker Magic
West Palm Beach, Florida
Site Map | Disclosure
© copyright 2010 - 2013, Josh Rosenberg. All Rights Reserved.