The 2009 Chrysler Sebring has some nice pluses: it has a long list of features, in convertible form there's a hardtop option, there's versatile entertainment options, and its also available in all-wheel drive.

For the 2009 model year, there are not many changes as the Sebring sedan got a redesign two years ago and the convertible got a refresh just last year. That said, all 2009 Sebrings now get standard four-wheel antilock disc brakes and stability control has been made standard on all models except the base LX. The Touring and Limited models also get additional standard equipment (see below).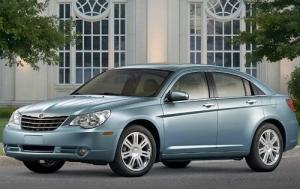 There's also three choices of tops for those opting for the convertible: vinyl soft top, cloth soft top, or a retractable hardtop. The big advantages of the retractable hardtop are it's noise control and much better all-weather climate control.

Both the 2009 Chrysler Sebring sedan and convertible are offered in three trims: LX, Touring and Limited.

Standard Features And Options:

Standard equipment on the already well-appointed base LX sedan includes full power accessories, cruise control, air conditioning, 16 inch steel wheels, a tilt and telescoping steering wheel, a 60/40-split rear seat and a four-speaker audio system with a 6-disc CD changer, satillite radio and an auxiliary audio jack.

The convertible LX adds a power vinyl soft top, six-way power front seats, and a six-speaker stereo system (optional on the sedan). In addition, either LX can add an upgraded cloth upholstery as an option.

Both the Touring sedan and convertible add 17 inch wheels and a longer list of available options. The Touring sedan also gets the power driver seat, upgraded cloth upholstery and six speaker audio system as standard items.
Both the top-of-the-line Limited sedan and convertible add a leather interior, heated front seats, remote engine start, automatic climate control, leather-wrapped steering wheel, auto-dimming rearview mirror, Bluetooth (called "uconnect phone"), heated and cooled front cupholders, and an upgraded Boston Acoustics audio system. The Limited convertible also comes with a standard cloth soft top. All of these features are available as options on the Touring.

Optional features on the Limited, and additional options for the Touring, include a rear entertainment system and sunroof on the sedan, and the retractable hardtop (can be remotely lowered) on the convertible.

Options available for either body styles include a touchscreen stereo interface ("uconnect tunes") with a single-CD/DVD player and a 30GB hard drive. Bear in mind that a navigation system can also be integrated into this interface, however the hard drive space for music is then dropped.

Engines, Powertrain And Gas Mileage:

While the 2009 Sebring convertible is front-wheel-drive only, the sedan is available in either front-wheel or all-wheel-drive form. The standard engine on all models is a 2.4 liter four-cylinder that produces 173 horsepower and 166 pound-feet of torque. In performance testing, a sedan was timed from a standstill to 60 mph in 9.6 seconds with this engine.

Available on the Touring model is a 2.7-liter V6 engine that ups output to 189 horsepower and 191 lb-ft of torque. This engine shaved the 0 to 60 mph time down to 8.9 seconds,

Both engines are coupled with a four-speed automatic transmission. The EPA gas mileage for the four-cylinder is 21 mpg city and 30 mpg on the highway. Gas mileage for the V6 is 19 mpg city and 27 mpg highway. The gas mileage for the convertible drops 1 mpg in each category.

Available as an option on the Sebring Limited is a 3.5 liter V6 engine that delivers 235 horsepower and 232 lb-ft of torque and is mated with six-speed automatic transmission. All-wheel-drive is only available with this engine. A Limited convertible with this engine goes from 0 to 60 mph in 8.3 seconds, while the lighter sedan is approximately one second faster.

The gas mileage for both front-wheel-drive body styles with this engine is 16 mpg city and 27 highway. AWD versions see a 1 mpg reduction in each category.

Safety:

Standard safety features on all Sebring models include four-wheel antilock brakes and front-seat side airbags. The sedan adds side curtain airbags, while traction control and stability control are standard on the Touring and Limited (not available on the LX).

Overall, the Sebring performed quite well in government crash testing. The 2009 Sebring sedan received a perfect five stars for frontal crash protection, five stars for front side protection and four stars for rear side protection. The Sebring convertible earned five stars in all categories except frontal crash driver protection, for which it received four stars.
Prices:

2009 Chrysler Sebring Sedan:

LX: listed retail price: $20,515, invoice price: $19,009
Touring: listed retail price: $21,810, invoice price: $20,174
Limited: listed retail price: $23,040, invoice price: $21,391


2009 Chrysler Sebring Convertible:

LX: listed retail price: $27,790, invoice price: $25,914
Touring: listed retail price: $30,270, invoice price: $28,171
Limited: listed retail price: $35,125, invoice price: $32,589

Other Models Of Possible Interest:

Used Chrysler Sebring
2009 Chrysler 300
2011 Chrysler 300
2010 Chrysler 300
2011 Chrysler 200
2011 Chrysler Town And Country
Used Chrysler 300


Additional Pages Of Possible Interest:

Used Chrysler PT Cruiser
2010 Dodge Challenger
Used Dodge Challenger
Used Dodge Ram
2009 Dodge Caliber
2009 Dodge Grand Caravan



Auto Broker Magic
West Palm Beach, Florida
eMail Auto Broker Magic | Site Map
© copyright 2009 - 2021, Josh Rosenberg. All Rights Reserved.