The 2009 Dodge Caliber is noted for its functional versatility, wide range of engine choices, and outstanding safety scores.

New features for the 2009 model year are fairly minor, and primarily confined to the interior. The newest Caliber has increased interior insulation to reduce road noise. Calibers also now have an available new hard-drive based music and navigation system.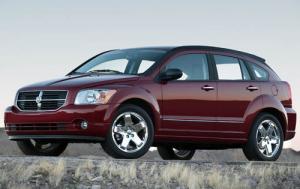 Standard Features And Options:

The Dodge Caliber is a four door hatchback/wagon that comes in four trims: the budget oriented SE trim, the SXT, the R/T, and then the performance-oriented SRT4.

Fairly notable standard features on the sparten SE include 15'' wheels and a CD Player with an auxiliary input. Air conditioning, power mirrors and power windows can also be added as options.

Moving up to the more popular and well-equipped mid-grade Caliber SXT adds standard full power accessories, 17 inch wheels, air conditioning, keyless entry, cruise control, a fold-flat front-passenger seat, a reclining and folding rear seat, satellite radio and a 115-volt power outlet.

Available options for the SXT include a hard-drive based navigation system with traffic updates, heated front seats, Bluetooth, color-keyed instrument panel trim, an upgraded speaker package, a 6-disc CD changer, and a hard-drive digital music server.

The Caliber R/T includes all SXT and SE features, but also adds 18'' alloy wheels, heated seats and the upgraded speakers. The R/T also has more sports-tuned suspension and steering systems than the SXT and SE. Options include a leather interior and chrome plated wheels.
The SRT4, which is the performance-oriented Caliber, adds a sporty unique hood with a fully functional air scoop, a turbocharged engine, 19 inch wheels, a lowered suspension, enhanced braking, sport seats, the hard-drive music server and a performance metrics display. Almost everything else that comes standard for the R/T also comes with the SRT4.

Optional items on the SRT4 are much like the R/T's, although the SRT4 also offers a 13-speaker audio system.

Engines, Powertrain And Gas Mileage:

The Caliber, which is front-wheel drive, offers several choices to the consumer in the engine department. Powering the SE and SXT models is a 1.8 liter four-cylinder engine that produces 148 horsepower and and 125 pound-feet of torque. Carbuyers can upgrade that engine to a 2.0 liter four-cylinder that delivers 158 horsepower and 141 lb-ft of torque.

The Caliber R/T comes standard with a 2.4 liter four-cylinder with 172 horsepower and 165 lb-ft of torque.

The more sport-like Caliber SRT4 boasts a 2.4 liter turbocharged engine that pushes the horsepower to 285 with 265 lb-ft of torque.

The 1.8 liter engine is coupled with a 5-speed manual transmission. The 2.0 liter engines only come with a CVT (continuously variable transmission). The RT features either a 5-speed manual or the CVT. The SRT4 is equipped with a six-speed manual transmission only.

The EPA estimated gas mileage for the 2009 Dodge Caliber with a 1.8 liter engine is 24 mpg city and 30 mpg highway. The 2.0 liter/CVT is rated at 23 mpg city and 27 mpg highway. The gas mileage for the 2.4 liter/CVT is 21 city and 25 highway, while the SRT4 comes in at 19 mpg city and 27 mpg highway.

Safety:

All Dodge Calibers come standard with side curtain airbags for head protection and a knee-blocker airbag for the driver. Front seat side airbags are available as an option. The SE and SXT models come with disc brakes in front, and drum brakes in the rear. Antilock brakes are included if the consumer orders the 2.0 liter engine and the CVT. R/T and SRT4 models have standard ABS and four-wheel disc brakes. In addition, stability control comes standard with the SRT4 and is an available option for the other trims except the SE.

The National Highway Traffic Safety Administration has given the 2009 Caliber a five star (perfect score) rating for both side impact and front impact protection for both driver and passengers.

Interior:

The purpose of a hatchback is to add the versatility that makes daily tasks a little bit easier, and the Dodge Caliber certainly captures this. The Caliber's rear seat can be fully lowered for useful extra cargo space. With lowered seats, the Dodge Caliber can handle around 48 cubic feet of cargo. The back area is also made of plastic, making it easy to clean.

While the interior of the 2009 Caliber is not trying to impress with luxurious features and materials, it is attractive, well designed and user-friendly.
Prices:

2009 Dodge Caliber Station Wagon:

SE: listed retail price: $16,460, invoice price: $15,498
SXT: listed retail price: $17,850, invoice price: $16,777
R/T: listed retail price: $20,295, invoice price: $19,026
SRT4: listed retail price: $24,840, invoice price: $23,208

Other Models Of Possible Interest:

Used Dodge Caliber
2010 Dodge Charger
2009 Dodge Grand Caravan
2010 Dodge Challenger
2009 Chrysler Sebring
2009 Chrysler 300


Additional Pages Of Possible Interest:

Used Dodge Charger
Used Dodge Challenger
Used Dodge Magnum
Dodge Ram Used
Used Chrysler Sebring
Used Chrysler 300



Auto Broker Magic
West Palm Beach, Florida
eMail Auto Broker Magic | Site Map
© copyright 2009 - 2015, Josh Rosenberg. All Rights Reserved.