The 2010 Ford Shelby GT500 is an outstanding vehicle, pure and simple. In addition to its classic looks, the GT500 offers an incredible power performance and athletic handling while still being suitable for everyday driving. And it does so at a reasonable price, relative to its high performance abilities.

The 2010 Shelby GT500 is also a new and significantly improved version over the 2009 model. In addition to a revised exterior styling, the suspension's been tweaked and adjustable stability control has been made a standard feature, giving the GT500 considerable more handling prowess.

Inside, the car's been graced with much improved materials as well upscale features such as leather/suede upholstery, dual-zone climate control and the Sync multimedia voice-control system.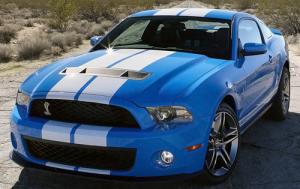 What's more, the supercharged V8 has been made still more powerful, now delivering a blistering 540 horsepower (up from 500 hp), via some adjustments including a cold-air intake, more aggressive ignition timing, and less restrictive exhaust.

And this is one fast car. The GT500 can thunder from a standstill to 60 mph in just 4.3 seconds and devours the quarter-mile in just 12.4 seconds. These kinds of times are usually reserved for the super expensive and exotic vehicles that are out of the financial reach of many serious driving enthusiasts.

Standard Features And Options:

The 2010 Ford Shelby GT500 is a high-performance version of the Mustang and is offered in both coupe and convertible forms.

Standard features on this year's GT500 include 19 inch alloy wheels (18 on the convertible), high-performance tires, Brembo brakes, hood-mounted heat extractors, a front air splitter, a rear spoiler, sport bucket seats with Cobra badging, leather/suede upholstery, cruise control, air conditioning, power driver seat, the Sync multimedia voice-control system, and an 8-speaker sound system with a six-CD/MP3 changer and satellite radio.

While both coupe and convertible models come with "GT500" side stripes, the coupe also sports racing stripes over the nose and tail. There is, however, a stripe-delete option for those looking for a quieter look.

A power-operated soft top is also standard on the GT500 convertible.

Available optional features include an Electronics package (navigation and dual-zone climate control), an upgraded 10-speaker 1,000-watt audio system, and xenon headlights.
Engines, Powertrain And Gas Mileage:

Powering the rear-wheel-drive GT500 is 5.4 liter supercharged V8 engine that delivers 540 horsepower and 510 pound-feet of torque. It's coupled with a six-speed manual transmission only. But not only does such a prodigious engine produce impressive acceleration, with its huge Brembo disc brakes on all four wheels brake fade is nonexistant and stopping ability is incredible for such a heavy car (nearly two tons). Stopping from 60 mph is accomplished in just 106 feet.

The EPA gas mileage estimate for the 2010 Shelby GT500 is 14 mpg city and 22 mpg on the highway. Again, not awful for a car with this kind of power output.

Safety:

Standard safety features on all GT500s include anti-lock brakes (ABS), stability control, traction control, and front-seat side airbags.

While government crash testing had not yet been done at the time of this writing, the 2009 Mustang upon which it is based earned a perfect five out of five stars for both frontal crash protection and front passenger side protection. Tests for rear-passenger side-impact protection earned five stars for the convertible model and four stars for the coupe.

Interior:

The cabin area of the GT500 is well designed, very attractive and user-friendly. This year's improved interior includes soft-touch materials on the dash and doors, tighter build quality, and the use of Alcantara, a very good faux suede used in upscale luxury cars, on the seats and steering wheel.

The sport seats are comfortable and hold well during sharp cornering thanks to aggressive side bolsters. There's real aluminum trim accents on the dash and steering wheel spokes, and the old-time cue-ball gearshift knob reminds one of the good ol' days. While the sharp looking Cobra logo is stitched into the seats, seats with racing stripes are also available.

Also available this year is Ford's excellent Sync system which accepts voice commands for your cell phone, the audio system and the navigation system (optional).

Cargo capacity for the coupe comes in at 13.4 cubic feet and can be increased considerably when the rear seat is split and folded down. The convertible has cargo space of 9.6 cubic feet, but does not have a folding rear seat.

Drive:

The Ford Shelby GT500 provides a driving experience that is truly thrilling, and one usually only available in much pricier automobiles. Handling and performance is exhilarating in this Shelby Mustang that's even more powerful than its famous relatives of the 1960s. And with its breathtaking acceleration and smooth gear changes, the 2010 GT500 is still crisp in the corners with responsive steering and an overall balanced feel.

Also a big positive is that drivers can tone performance down for a more civilized everyday experience, all depending on how you feel and where you are when your foot hits the gas.
Also, For 'Used' Car Buyers ...

Those of you in the market for a used car may want to check out this Lowest Price Used Car Buying Guide that details a super effective buying method, one that often beats down prices even to wholesale levels.

And somewhat related to this, here's another excellent method that identifies Price-Distressed Cars Right On Dealer Lots. These are vehicles they are so desperate to unload they would welcome your wholesale offer.

In addition, you can also try the Public Car Auctions in your own geographic area. While there can be a lot of junk vehicles at these auctions, there are often absolute gems sprinkled in as well. This article reviews what to expect at open-to-the-public car auctions and how to locate them in your own area.
Price:

2010 Ford Shelby GT500:

Shelby GT500 Coupe: listed retail price: $46,325, invoice price: $41,805
Shelby GT500 Convertible: listed retail price: $51,325, invoice price: $46,255

Other Vehicles Of Possible Interest:

Used Ford Mustang
2013 Ford Mustang
2012 Ford Mustang
2011 Ford Mustang
2010 Ford Mustang
2011 Ford Taurus


Additional Pages Of Possible Interest:

Ford Fusion 2011
Used Ford Focus
2011 Ford Focus
Used Ford F-150
Used Ford Trucks
2010 Chevy Corvette



Auto Broker Magic
West Palm Beach, Florida
Site Map | Disclosure
© copyright 2010 - 2015, Josh Rosenberg. All Rights Reserved.