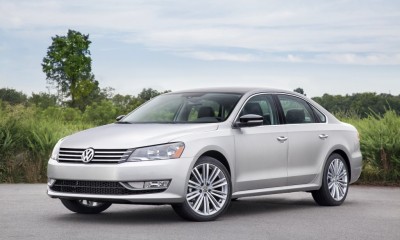 The family midsize sedan segment is just plain flush with good choices. But as the only "European" brand, the Passat offers its own unique take on what a family sedan should be; an appealing blend of performance, quality and design. It also offers a turbocharged diesel variant, the TDI, with outstanding fuel economy that's on par with hybrid sedans.

What's more, it's also been enhanced in recent years, particularly with additional passenger and cargo space, to better appeal to North American tastes.
And this year, a big plus is the addition of a new, turbocharged 1.8-liter four-cylinder engine that not only has more passing power than the 2.5 engine due to added torque, but does so with better gas mileage as well. Initially, it's only available with the SEL model, but will be added to the other models as the year progresses.
In terms of road manners, and despite a long wheelbase, the latest Passat still maneuvers in a way we'd expect from a Volkswagen. What minor differences exist between models comes primarily from steering feel, as the base Passat comes with an older hydraulic rack while the others have electric power steering. But while the Passat can certainly handle its own, let's not forget that it's a good-size car, so it can't be called exactly "athletic" either. I guess you could say it handles its size quite well.

Clearly, with its generous interior dimensions, the Passat has earned its place as a "family" sedan. The rear quarters are huge, comparable to larger vehicles such as the Avalon or Azera, while offering minivan-like ease of entry. Top-notch safety scores add to ease of mind while its large trunk capacity is very functional for family outings or vacations.

All that said, while the 2014 VW Passat has a lot going for it, it does have some drawbacks as well. Here's a list of the positives and negatives worthy of consideration:
Pros:

High-quality cabin


Above-average passenger and cargo room


Clean, uncluttered dash


Capable handling


Quiet and refined ride quality


Exceptional TDI diesel fuel-efficiency (up to 43 mpg hwy)


Powerful V6 engine


Impressive new turbocharged 1.8-liter four-cylinder engine


Top crash test scores


Sophisticated design look
Cons:

Below-average acceleration in 2.5 models


Touchscreen electronics interface in SEL is slow


Some interior plastic trim subtracts from a nice interior


Wind and road noise can be noticeable at times


Rear headroom on the tight side for tall passengers


No voice-controlled systems


Turbodiesel and V6 models are fairly pricey
Overall:

In this crowded and competitive midsize sedan segment with other excellent choices such as the Honda Accord, Toyota Camry, Nissan Altima and Ford Fusion (geez, and the Kia Optima, Hyundai Sonata, Mazda6 and Subaru Legacy as well), the new Passat differentiates itself with its European refinement, abundant space and diesel engine choice. It would certainly be a solid family sedan choice.

That said, its the TDI, however, that stands out the brightest. For roughly $26,000 for the base model, you get about 700 miles per tank of fuel, tremendous rear-seat room, and a bit of European handling flair. Also more highly recommended would be the 1.8T models


Other opinions:
From Car And Driver:

"Taken with its improved manners and drivability, the volume Passat now finds itself in a position to snag more mid-size market share."

From Edmunds.com:

"Even in the face of so many competent rivals, though, the 2014 Volkswagen Passat comes highly recommended, especially with the 1.8T and TDI engines."

From TheCarConnection.com:

"Inside it's Volkswagen at its most cleanly rendered, with a layout of controls that's almost stark compared to the chaos of lines and surfaces found in some of its competition."

From AutoTrader.com:

"Built at VW's shiny new manufacturing plant in Tennessee, the 2014 Passat is as American as a German sedan can be, yet it still offers enough of that European character to feel special."



Best price? Here's how to get the lowest VW Passat price
Invoice And Sticker Prices:
| Model | Invoice Price | Sticker Price |
| --- | --- | --- |
| S, 2.5L 5-cyl., 5-speed Manual | $19,990 | $20,845 |
| S, 2.5L 5-cyl., 6-speed Auto | $21,045 | $21,945 |
| Wolfsburg Edition, 2.5L 5-cyl., 6-speed Auto | $22,532 | $23,495 |
| SE, 2.5L 5-cyl., 5-speed Manual | $22,963 | $23,945 |
| SE, 2.5L 5-cyl., 6-speed Auto | $24,017 | $25,055 |
| TDI SE, 2.0L 4-cyl. Turbo Diesel, 6-speed Manual | $25,217 | $26,295 |
| V6 SE, 3.6L V6, 6-speed Auto/Manual | $28,093 | $29,295 |
| SEL Premium, 1.8L 4-cyl. Turbo, 6-speed Auto/Manual | $29,628 | $30,895 |
| TDI SEL Premium, 2.0L 4-cyl. Turbo Diesel, 6-sp. Auto/Manual | $31,642 | $32,995 |
---
Other Pages Of Possible Interest:

2013 Volkswagen Passat
Used Passat Buying Guide
Used Volkswagen Buying Guide



Auto Broker Magic
West Palm Beach, Florida
Site Map | Disclosure
Copyright 2013 - 2021, Josh Rosenberg. All Rights Reserved.