We're of the opinion that the Grand Prix was a far better automobile than most people realize. Did you know that J.D. Power gave the 2005 model, for example, it's top ranking (5 out of 5) for both Mechanical Quality and Overall Quality? And another 5 for the 2006 and 2007 as well?
I mean, the much acclaimed 2005 Honda Accord scored a 4.5 in both categories (still an excellent rating). This should be telling people something. And you can still find some with lower mileage with careful and patient shopping.

Sometimes American cars from this period got less respect, and rightfully so when compared to some of their foreign competition. But not in this case. The Grand Prix was really a nice car and it's too bad more American cars weren't made like it at the time (produced through 2008 - American cars have made serious improvements since).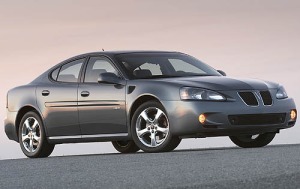 And Cars.com's Consumer Car Reviews gave it 4.8 stars out of 5 ... with 5's in performance, handling and value for the money. Consumers happen to be the ultimate judge of a car's real performance and value.

And Edmunds.com said, "Solid drivetrains, loads of features, fun to drive."

Back in the 1960's the Grand Prix started out as a luxury car. Today, it's a very nice family coupe (the coupe was dropped in 2004) or sedan ... even comes with a V8 option for those looking for extra power. The various V6 engines also provide plenty of pep while still getting quite respectable gas mileage ... up to 30 mpg on the highway.
Coming with its fine-tuned ride and handling strengths, is a very driver-friendly interior with easy to see and use controls. However, the downside is the interior build materials look and feel cheaper than the Grand Prix's European competitors, despite some improvements in its later years.

Prices of used models are also very attractive, primarily because Pontiac was closed down during the financial crisis and there were parts and service fears. But this has been a non-issue. service.

The last-generation Grand Prix was produced for the 2004 through 2008 model years. Compared to its predecessor, this version offered improved engines, better handling, an improved ride quality and an upgraded interior with large gauges. This era also marked the end of the coupe body style, leaving just the sedan.

There were a number of available trims during this production run, but the most popular (and now currently prevalent) included the base, GT (discontinued after 2007) and GXP. Powering the base model was a 3.8-liter V6 that produced 200 horsepower. It also came quite well-equipped for an entry model with standard features such as power windows and mirrors, air-conditioning, keyless entry, 16-inch wheels, cruise control, a CD player and the OnStar communications system.

Under the hood of the GT was a supercharged version of the same V6 that pumped out 260 horsepower. Typical standard features included 17-inch alloy wheels, remote start, foglamps and a trip computer. Some can also be found with the optional special Edition package which added ground effects, a body color grille, bright exhaust tips and special 17-inch alloy wheels,

We actually prefer the GT over the other model choices for used buyers due to a well-blended combination of power, handling and fuel economy.

The most powerful and capable on the road was the GXP which was outfitted with a 303-horsepower, 5.3-liter V8. It also came standard with a firmer suspension tuning, a head-up display, unique trim accents, 18-inch alloy wheels and performance tires. Some of these can also be found with the optional leather upholstery and/or dual-zone automatic climate control.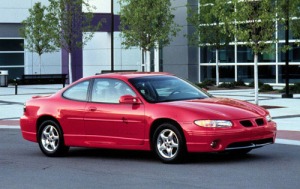 The previous-generation was produced from 1997 to 2003 and was available in both coupe and four-door sedan body styles. Overall, this version offered both quickness and a firm suspension at an attractive price when compared to similarly capable rivals.

Of particular note during this production run was the debut of the GTP with its supercharged 3800 V6. This model offered a nice combination of power (240-hp) and relatively decent gas mileage (16 mpg city and 25 mpg highway) at the time. It should also be noted that during this time the base model had a slightly less sporty front and rear design than the GT and GTP models.

We no longer recommend the earlier Grand Prix generations due to potential mileage and condition concerns.

Possible downsides for both of the last two generations include somewhat noisy engines, a ride that can be a bit harsh over rough surfaces and some lower-grade interior materials. At the same time, the Grand Prix got high consumer scores when it comes to performance, handling, looks and fuel economy.
All in all, we think a lower mileage Grand Prix can make a good used car choice if you can find one. In particular, we think the GT makes the best overall choice for its balance of power, fuel economy and handling.

And we have a number of suggestions to help you save money when buying one.

How To Buy At The Best Price
There are actually several different ways to buy a used Grand Prix at the lowest price, and even at wholesale, although it can be challenging because of the few remaining "good" models still out there. You can click on the links to each of the following methods to get the specific instructions.

First of all, here's a Lowest Price Used Car Buying Guide that details a super effective method, one that often beats down prices even to wholesale levels. And somewhat related to this, here's another excellent method that identifies Price-Distressed Cars Right On Dealer Lots. These are vehicles they are so desperate to unload they would welcome your wholesale offer.

In addition, you can also try the Public Auctions in your own geographic area. While there can be a lot of junk vehicles at these auctions, there are often absolute gems sprinkled in as well. This article reviews what to expect at open-to-the-public car auctions and how to locate them in your own area.

Also ... for those of you who might be interested in a brand new vehicle, if the price was crazy good, here's info on exactly How To Get The Best Price On New Cars, Trucks And SUVs. This works just phenomenally well.


Other Pages Of Possible Interest:
Additional Models Of Possible Interest:



Auto Broker Magic
West Palm Beach, Florida
Site Map | Disclosure
© copyright 2009 - 2021, Josh Rosenberg. All Rights Reserved.