The good news is that older Honda Accords were built extremely well and can still serve as very competent used cars. Potential older Accord buyers can use the model info below to help identify which may be the best fit as well as how to then purchase one at the best possible price ... and yes, even at wholesale.

We happen to be very big fans of the Honda Accord. I guess that shouldn't surprise many people ... most people are. That said, I think the important point is that we think it's one of the smartest used car purchases out there for those seeking an older vehicle.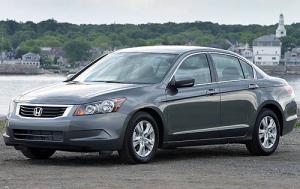 All it's done for the last three decades is prove, year in and year out, that it's a well-built vehicle with an outstanding reputation for reliability, a high emphasis on safety and strong resale values.

Get behind the wheel and you will immediately appreciate its comfort, roominess, smart engineering and easy drive. Additionally, the Accord has continued to perform at the top of the list as either a midsize coupe or sedan.

If you're considering the purchase of a used Accord, here's some information on those you'll likely find still readily available in the used market.
The eigth-generation Accord, was produced from the 2008 model year through 2012. This Accord was enlarged slightly and engine performance was also increased ... but without actually hurting its gas mileage performance. These Accords are found in both midsize coupe and sedan forms with enough model variations to meet the different needs of many buyers.

Base LX models are equipped with the essentials while a top-of-the-line EX-L is luxury-like, with features including leather upholstery, Bluetooth and perhaps optional navigation. And all of this generation's models come with standard safety features which include stability control and side curtain airbags.
As in past generations, these Accords are powered by either a four-cylinder engine or V6. The base engine is the 2.4-liter four-cylinder that produces 177 horsepower. There's an enhanced version of this engine that is available on the Accord EX that's good for 190 horsepower. Naturally enough, the 3.5 liter V6 provides a significant boost in power ... up to 271-hp.

Models with the four-cylinder engine are paired with a 5-speed manual transmission as standard, while many used Accords can be found with the optional 5-speed automatic. Most of the V6 models come with the 5-speed automatic, however, the V6 coupes of this era are also available with a 6-speed manual.

The earlier seventh generation was produced for the 2003 through 2007 model years, and again many can still be found out there. These used models come with either a 2.4 liter 160 horsepower incline-4 or a 3.0 liter 240 horsepower V6 engine. A choice of a 5-speed manual or 5-speed automatic transmissions are also available while the 6-speed manual was available on the V6 EX coupe.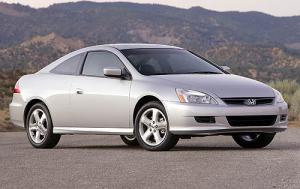 These Accords were also offered as a midsize coupe or sedan with three initial trims: DX, LX and EX. The DX was fairly stripped in terms of features, so we find most shoppers interested in either the LX or EX. It's important to note that prospective buyers should be aware that side and side-curtain airbags may not be found in many models because these were optional features during this production run.

The Honda Accord Hybrid was introduced in 2005 and these are most definitely harder to come by as not a lot of them were sold.
Still part of this generation, the Accord was given a freshened exterior styling, some minor changes to the trim level organization and more powerful engines in 2006. Stability control was also introduced in the 2006 model year.

This generation also earned high praise for its solid build quality, roomy and attractive interior, good crash test scores and smooth drive.

The sixth-generation Honda Accord is still popular in the used market. Produced from 1998 to 2002, these Accords were again coupes and sedans with four-cylinder or V6 engines. There were few changes during this production run, although safety features were expanded after the 2000 model. These models were considered competent handlers and user-friendly, and can be found with or without a wide-array of features. They can also make wise and relatively inexpensive purchases due to their very strong track records.

Overall, however, used Honda Accords often carry a premium price over their competitors in the marketplace (and rightfully so). Still, the overall cost over the lifetime of ownership for an Accord is usually quite favorable when compared to most other vehicles due to its typically lower maintanence costs and strong resale values.

In our opinion the Accord gets very high scores for design, build quality, smooth driving and crash test scores, making it an excellent choice as an older used car purchase.

How To Buy At The Best Price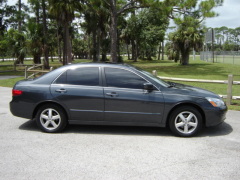 There are actually several different ways to buy an older Accord at the lowest price, and even at wholesale. You can click on the links to each of the following methods to get the specific instructions.

First of all, here's a Lowest Price Used Car Buying Guide that details a super effective method, one that often beats down prices even to wholesale levels. And somewhat related to this, here's another excellent method that identifies Price-Distressed Cars Right On Dealer Lots. These are vehicles they are so desperate to unload they would welcome your wholesale offer.
In addition, you can also try the Public Car Auctions in your own geographic area. While there can be a lot of junk vehicles at these auctions, there are often absolute gems sprinkled in as well. This article reviews what to expect at open-to-the-public car auctions and how to locate them in your own area.

Also ... for those of you who might be interested in a brand new Honda Accord, if the price was crazy good, here's info on exactly How To Get The Best Price On A New Accord. This works just phenomenally well.


Other Pages Of Possible Interest:

Additional Models Of Possible Interest:



Auto Broker Magic
West Palm Beach, Florida
Site Map | Disclosure
Copyright 2008 - 2021, Josh Rosenberg. All Rights Reserved.