The Hyundai Elantra has long been on the upswing in terms of overall quality and consumer appeal. The 2009 model continued to close the ground on its strongest competitors like the Toyota Corolla, Honda Civic and Mazda 3, and even surpass them in some areas due to its price. Indeed, it's now a small sedan that is quite worthy of very serious consideration.

And once again, the 2010 Hyundai Elantra is still better than last year's model, causing still more sweating among its better known rivals. The new Elantra can boast about its smooth ride, spacious interior, higher-scale cabin given its price, long feature list, long warranty, excellent gas mileage and low price. If you haven't looked at one yet, you should.

New for the 2010 model year is a still more fuel-efficient Blue model with its "smart" alternator management system, engine calibration changes, lower-friction engine parts, revised transmission ratios, and a shift indicator for the manual transmission. The automatic transmission models have also received these engine modifications resulting in still better fuel efficiency for all 2010 Elantra models.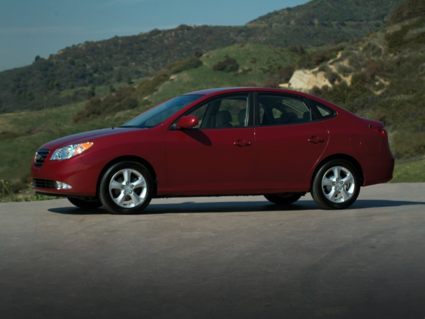 Also introduced for 2010 is a new grille and exterior chrome trim accents, as well as standard feature iPod/USB connections for the GLS model.

Trims, Standard Features And Options:

The 2010 Hyundai Elantra is available in three trims: Blue, GLS and SE.

While the Blue model is the base trim, standard features still include full power accessories, keyless entry, 15 inch steel wheels, a tilt steering wheel and a 60/40-split-folding rear seat. There's also an optional Comfort Package available for the Blue model that adds cruise control, air conditioning and a CD/MP3 player with a USB/auxiliary audio jack.

The GLS model comes with all of the Blue model's standard features and options, plus foglights.

The top-of-the-line SE model then adds a sport-tuned suspension, 16 inch alloy wheels, a leather-wrapped steering wheel with audio controls and a telescoping steering column.

A power sunroof is an available option on GLS and SE models, while heated front seats are optional on the SE.
Engines, Powertrain And Gas Mileage:

Powering the front-wheel drive 2010 Elantra is a 2.0 liter four-cylinder engine that produces 138 horsepower and 136 pound-feet of torque. It should be noted that automatic Elantras meet Partial Zero Emissions Vehicle (PZEV) standards in California-emissions states with output reduced to 132 horsepower.

The Blue model is only available with a five-speed manual transmission, while the GLS and SE models come with a four-speed automatic transmission. In performance testing with the fiive-speed manual, the Elantra went from a standstill to 60 mph in a respectable 8.4 seconds.

The EPA estimated gas mileage for the Elantra Blue comes in at a very strong 26 mpg city and 35 mpg on the highway. Also impressive are the gas mileage ratings for the automatic GLS and SE models, coming in at a nearly identical 26 mpg city and 34 highway, thanks to this year's fuel-economy-friendly engine modifications.

Safety:

Standard safety features for all 2010 Elantras include antilock disc brakes (ABS), front-seat side airbags, side curtain airbags and active front head restraints. In addition, traction control, stability control and brake assist are available on the SE.

In government crash tests, the 2010 Hyundai Elantra was given five out of five stars for frontal-impact protection and four stars for side-impact protection.

Interior:

The 2010 Elantra's cabin has a look and feel that's significantly better than one would expect from a sedan in this price range. Sure, there are some economy-looking plastics and buttons, but overall the interior has better textured panels than the price competition and is solidly constructed. The more refined blue lighting of the gauges and the very nicely sculpted dash also add to the more upscale look.

Seating is comfortable, supportive and surprisingly spacious. Most drivers and passengers will find ample headroom and legroom. Storage space is also at a premium for a sedan of this size with plenty of pockets and bins as well as 14 cubic feet of trunk cargo space. In addition, the rear 60/40-split-folding seats permit still more storage room when needed.

Drive:

Even with its fuel-efficient engine, the Elantra provides adequate power as well as solid maneuvering ability and road grip. While the cabin gets a little noisy above 3,500 rpm, by-in-large the interior does a good job repelling wind and road noise, particularly on the highway. The Elantra also does a better than expected job of handling road bumps and imperfections to produce a composed ride and a pleasant driving experience.
How To Get The Lowest Price:
Best Negotiating Tactic: Well, there's definitely a 'best way' when it comes to new car buying. If you want to get the best bottomline, out-the-door price you need to know exactly who to talk to at the dealership, how to make the contact and how to make this person eager to quickly drop prices as low as possible to get your sale.

Here's the details on exactly how to get the best price on a new Hyundai Elantra ... or any other car.
Also, For 'Used' Car Buyers ...

Those of you in the market for a used car may want to check out this article about how to buy a used car at the lowest price. It details a super effective buying method, one that often beats down prices to wholesale levels.

And somewhat related to this, here's another excellent method that identifies Price-Distressed Cars Right On Dealer Lots. These are vehicles they are so desperate to unload they would welcome your wholesale offer.

In addition, you can also try Repossessed Bank Vehicles And Government Car Auctions in your own geographic area. While there can be a lot of junk vehicles at these auctions, there are often absolute gems sprinkled in as well. This article reviews what to expect at open-to-the-public car auctions and how to locate them in your own area.
Prices:

2010 Hyundai Elantra:

Blue: dealer price: $14,145, invoice price: $13,758
GLS: dealer price: $16,895, invoice price: $16,385
SE: dealer price: $17,845, invoice price: $17,113

Other New And Used Models Of Possible Interest:

Used Hyundai Elantra Overview
2011 Hyundai Elantra Review
2011 Hyundai Elantra Touring
2011 Hyundai Genesis Overview
2011 Hyundai Genesis Coupe Review
2010 Hyundai Santa Fe Overview


Additional Pages Of Possible Interest:

Used Hyundai Model Overview
Review: 2010 Hyundai Sonata
Used Hyundai Genesis Info
Used Hyundai Sonata Overview
Used Hyundai Tiburon Guide
Used Hyundai Accent Info



Auto Broker Magic
West Palm Beach, Florida
Site Map | Disclosure
© copyright 2009 - 2015, Josh Rosenberg. All Rights Reserved.