Scion is a brand that has been able to associate itself with a vibrant and young market. The reasonably priced 2010 Scion tC, with its attractive two-door coupe body style and impressive amounts of customization, again successfully appeals to this market.

As in previous model years, the 2010 tC offers good handling and a comfortable ride along with solid crash test ratings. It can also boast of many standard amenities, a spacious trunk, a well-styled interior, a multipurpose backseat, a peppy engine and an almost unlimited amount of customization options.

Standard Features And Options: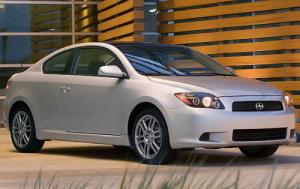 The 2010 tC is available in a single trim; a two door hatchback coupe. Its long list of standard features include many considered somewhat upscale for a budget-priced coupe, such as a dual-pane sunroof, air conditioning, full power accessories, one touch windows, cruise control, keyless entry, folding and reclining back seats, a Pioneer CD Stereo system with a dedicated auxiliary input jack for your iPod and 17 inch alloy wheels.

In addition, most dealers offer a large number of upgrades, including an upgraded audio system, satellite radio and a touchscreen navigation system. Other available dealer-installed accessories include body kits, interior accents, an engine supercharger and stylized wheels.
Engines, Powertrain And Gas Mileage:

Powering the Scion tC is a 2.4 liter four cylinder engine that produces 161 horsepower and 162 lb-ft of torque. It's coupled with either a standard five-speed manual transmission or an optional four-speed automatic.

The dealer-installed supercharger increases output to 200 horsepower and 184 pounds of torque. This version of the tC goes from a standstill to 60 mph in a quick 7.2 seconds.

The EPA gas mileage for an automatic tC comes in at 21 miles per gallon in the city and 29 mpg on the highway. A manual tC is rated slightly lower at 20 mpg city and 27 highway.

Safety:

Standard safety features on the 2010 tC include antilock disc-brakes (ABS), full head curtain airbags, driver knee airbags, and front-side airbags.

In National Highway Traffic Safety Administration crash tests, the Scion tC earned a perfect five out of five stars in side-impact tests for both front and rear occupant protection. In frontal-impact tests, the tC received five stars for driver protection and four for passenger protection.

Interior:

A big plus for the tC's interior is the standard Pioneer sound system with it's iPod interface. Pioneer systems are well known for giving clear and crisp sound. The interior is also quite stylized with nice materials, solid build quality and user-friendly features.

Surprisingly for a coupe, the tC provides great legroom for rear passengers. In addition, separate rear seats can recline independently of each other up to 135 degrees, a very unique feature for a two door coupe. And the wide hatchback opening, when combined with folding the rear seats, allows for a very spacious 35 cubic feet of cargo space.

Drive:

While not a performance-oriented vehicle, the 2010 Scion tC is a capable and competent handler with responsive steering and plenty of low-end torque. Overall drive quality is comfortable and fairly compliant, particularly for an affordably-priced compact coupe. In addition, the manual transmission shifts quite smoothly,

The Scion's tC is aimed at youthful drivers that want rides that are customizable, stylish, fresh and new, but still affordable. Scion accomplishes all of these with it's 2010 tC.
How To Get The Lowest Price:
Best Negotiating Tactic: Well, there's definitely a 'best way' when it comes to new car buying. If you want to get the best bottomline, out-the-door price you need to know exactly who to talk to at the dealership, how to make the contact and how to make this person eager to quickly drop prices as low as possible to get your sale.

Here's the details on exactly how to get the best price on a new Scion tC ... or any other car.
Also, For 'Used' Car Buyers ...

Those of you in the market for a used car may want to check out this article about how to buy a used car at the lowest price. It details a super effective buying method, one that often beats down prices to wholesale levels.

And somewhat related to this, here's another excellent method that identifies Price-Distressed Cars Right On Dealer Lots. These are vehicles they are so desperate to unload they would welcome your wholesale offer.

In addition, you can also try Repossessed Car Auctions As Well As Government Auto Auctions in your own geographic area. While there can be a lot of junk vehicles at these auctions, there are often absolute gems sprinkled in as well. This article reviews what to expect at open-to-the-public car auctions and how to locate them in your own area.
Price:

Manual: listed retail price: $17,000, invoice price: $16,150
Automatic: listed retail price: $17,800, invoice price: $16,910
Other Vehicles Of Possible Interest:

Used Scion tC
2010 Scion xD
Used Scion xB
Used Scion Models
2010 Toyota Prius Hybrid
2010 Ford Taurus
2010 Chevrolet Malibu


Additional Vehicles Of Possible Interest:

2010 Ford Focus
2010 Toyota Camry
2010 Honda Fit
2010 Honda Accord
2010 Buick LaCrosse
2010 Hyundai Sonata
2010 Toyota Corolla



Auto Broker Magic
West Palm Beach, Florida
Site Map | Disclosure
© copyright 2010 - 2015, Josh Rosenberg. All Rights Reserved.