There's just so much to like about the 2010 Ford Fusion, including its roomy interior, comfortable ride, impressive handling, solid four-cylinder fuel efficiency and the availability of all-wheel drive. In fact, it was named Motor Trend's "2010 Car Of The Year".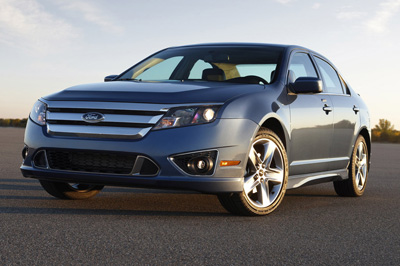 Redesigned for 2010, The Fusion has addressed its previous flaws in a major way. While it still shares its platform with the 2009 Fusion, nearly everything else has been refreshed, including the interior, exterior and powertrain. There's additional power, a new sport model and the widely anticipated debut of the gas/electric Fusion Hybrid.

Immediately noticeable in the new Fusion is the all new front end look with its three-bar chrome grille, more macho-looking lower air intake with larger foglamps, as well as new angular headlights. The result is a sharper, sportier look.

Engines, Powertrain And Gas Mileage:

The new powertrains for the Fusion are borrowed from Ford's compact SUV, the well-regarded Ford Escape. Replacing its 160 horsepower 2.3 liter 4-cylinder engine is a 175 horsepower 2.5 liter 4-cylinder. Non-Sport V6 models are now equipped with a 240 horsepower 3.0 liter engine as opposed to the previous 221 horsepower V6.
And the new Fusion Sport model comes with a 3.5 liter Duratec V6 rated at 263 horsepower. The V6 is also capable of running on E85 ethanol-blended fuel.

Four-cylinder and Sport models come standard with front-wheel drive. All-wheel drive is standard on the V6 SEL and an available option on the Sport.

EPA gas mileage ratings for the four-cylinder Fusion S with the automatic transmission come in at an impressive 23 mpg city and 34 mpg on the highway. Ratings for the Fusion Sport come in at 18 city and 27 highway. The all-wheel-drive V6 SEL has gas mileage estimates of 17 mpg city and 24 highway.

Trims, Standard Features And Options:

In addition to the new Fusion Hybrid and Sport models, the S, SE, and SEL trim levels return.

Even the base level Fusion S model comes with standard features that include air-conditioning, power windows, power mirrors, power doorlocks, capless refueling, traction control, ABS, and 16 inch wheels.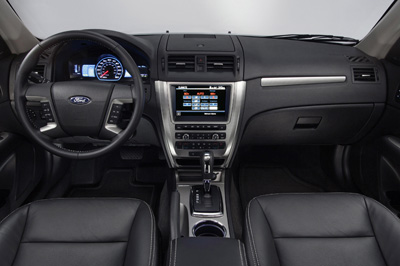 The SE model has the same features as the S, but adds 17 inch wheels, a six-speaker stereo with Sirius Satellite Radio, and an option for the 3.0-liter V6. An additional option on the SE is Ford Sync 2.0, a voice-activated interface for cell phones and MP3 players.

Additional features offered standard on the SEL model are Sync 2.0, seven-color lighting system, leather seats and steering wheel, keyless entry, dual-zone climate control, and automatic headlights. Options include the V6, a reverse-sensing system (detects any traffic moving towards the vehicle), all-wheel-drive, a Sony sound system and GPS.

The new 2010 Fusion Sport is equipped with the Duratec V6 engine, accented leather (red, blue or black), interior chrome trimming, 18 inch wheels, and dual exhaust. All-wheel-drive is optional, as is GPS and the Sony audio.

The 2010 Ford Fusion Hybrid runs on a 2.5 liter 4-cylinder gas engine coupled with an electric motor, running on either or both to balance acceleration and increase fuel efficiency. The gas engine delivers 156 horsepower and 136 pound-feet of torque. The electric motor that boosts power production to 191 horsepower. The result is a hybrid that's actually quite quick, going from a standstill to 60 mph in a very respectable 8.7 seconds.

The Hybrid Fusion model is front wheel drive only with a continuously variable automatic transmission (CVT). It's also capable of operating in an all-electric mode up to 47 mph. This is quite high and enables the vehicle to achieve a one tank travel range of approximately 700 miles.
Gas mileage for the hybrid is estimated at 41 mpg city and 36 mpg on the highway.

The Hybrid is also equipped with SmartGauge, a very futuristic looking system of LCD monitors on either side of the speedometer. It's an interesting and attractive "EcoGuide" with lively animations to coach drivers on green driving habits. It can also be reconfigured to display whatever data about the car's operation you'd like.

Safety:

Standard safety features on all Fusion models include antilock disc brakes (ABS), stability control, front-seat side airbags and side curtain airbags.

Interior:

The Fusion's cabin is another strength. The material quality is solid, as is the build quality. The overall design is also attractive and user-friendly, an improvement over earlier models. The available Sync system is also a big plus with its ability to integrate audio and Bluetooth functions with voice-recognition technology.

There's also ample passenger room in the Fusion, demonstrating that a sedan doesn't have to "go bigger" (like the Accord or Mazda6) to be suitable for families. The backseat is particularly comfortable and passenger-friendly, especially with the new rear seat headrest feature. Truck space also comes in as one of the largest at 16.5-cubic-feet. The split-folding rear seat also allows for transporting larger cargo items.

Drive:

Handling and performance in the 2010 Fusion is one of the best in the family sedan segment. Grip and control is strong in the corners while the ride still remains quiet and comfortable. Road bumps and rough spots are well absorbed and there's ample power when needed. For those looking for even more power and performance, the Sport model may be the best choice with its sport-tuned suspension and 3.5 liter V6 engine.
How To Get The Lowest Price:
Best Negotiating Tactic: Well, there's definitely a 'best way' when it comes to new car buying. If you want to get the best bottomline, out-the-door price you need to know exactly who to talk to at the dealership, how to make the contact and how to make this person eager to quickly drop prices as low as possible to get your sale.

Here's the details on exactly how to get the best price on a new Ford Fusion ... or any other car.
Also, For 'Used' Car Buyers ...

Those of you in the market for a used car may want to check out this article about how to buy a used car at the lowest price. It details a super effective buying method, one that often beats down prices to wholesale levels.

And somewhat related to this, here's another excellent method that identifies Price-Distressed Cars Right On Dealer Lots. These are vehicles they are so desperate to unload they would welcome your wholesale offer.

In addition, you can also try Bank Repo And Government Auto Auctions in your own geographic area. While there can be a lot of junk vehicles at these auctions, there are often absolute gems sprinkled in as well. This article reviews what to expect at open-to-the-public car auctions and how to locate them in your own area.
2010 Ford Fusion:

Ford Fusion S: listed retail price: $19,270, invoice price: $17,986

Ford Fusion SE: listed retail price: $20,545, invoice price: $18,940

Ford Fusion SEL: listed retail price: $23,975, invoice price: $22,027
Ford Fusion SEL V6: listed retail price: $27,435, invoice price: $25,141

Ford Fusion Sport, FWD: listed retail price: $25,825, invoice price: $23,693
Ford Fusion Sport, AWD: listed retail price: $27,675, invoice price: $25,357

Ford Fusion Hybrid: listed retail price: $27,625, invoice price: $25,313

Other Models Of Possible Interest:

Used Ford Fusion
2012 Ford Fusion
2011 Ford Fusion
2010 Ford Fusion Hybrid
2012 Ford Mustang
2011 Ford Mustang
2011 Ford Taurus


Additional Pages Of Possible Interest:

2011 Ford Fiesta
2010 Ford Mustang
Used Ford Taurus
2009 Ford Taurus
Ford Focus Used
Used Ford Mustang



Auto Broker Magic
West Palm Beach, Florida
Site Map | Disclosure
© copyright 2010 - 2015, Josh Rosenberg. All Rights Reserved.