We seem to have lost those economical yet sporty very small cars that were both super fun to drive and incredibly fuel efficient. This was a vibrant and popular car niche full of fun vehicles a couple of decades ago, but sadly, no more.

One of the absolute best was the Honda Civic CR-X. Thirty+ years ago it was duking it out with the very fun Toyota MR2 as the top dog in this segment. The CR-X sold in huge numbers, and while getting harder and harder to find out there, due to its reliability and solid build quality there's still some around despite the last one rolling off the assembly line in 1991. And it's combination of performance and economy remains hard to match.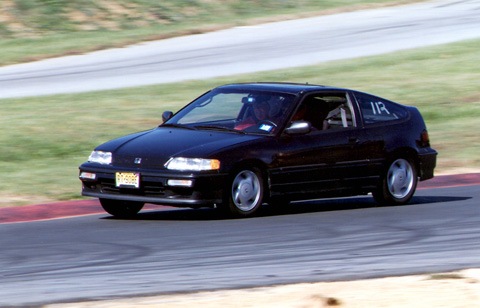 It was introduced in 1984 and was a hit from the get go, winning Motor Trend's coveted "Import Car Of The Year" award. It employed a shortened 86.6-inch wheelbase (as opposed to the 96.5-inches of other Civics) and was offered in two trim levels. The standard CRX engine was a 1.3 liter four-cylinder that produced just 60 horsepower, yet was surprisingly fiesty. There was also an uplevel CRX 1.5 that was outfitted with a single downdraft-carbureted, three-valve-per-cylinder, 76 horsepower 1,488cc engine.

Motor Trend tested the 1.5 and found it got an impressive 44.55 mpg. This was likely due to its excellent aerodynamics (0.32 drag coefficient) and light weight of just 1,802 pounds. It also used new-tech plastic body panels for the front fenders and a "header" panel between the headlamps. The base CRX weighed even less at 1,713 pounds and got even better gas mileage, an outstanding 51 mpg city and 67 mpg on the highway.

But not content to sit on their laurels, Honda made things still better with the introduction of the CR-X Si (Sports, injected) four-seat Civic hatchback in 1985. The Si came with an enhanced 1.5-liter engine as well as a new multi-port Programmed Fuel Injection system. Output increased to 91 horsepower at 5,500 rpm and 92.9-lbs.ft. of torque at 4,500 rpm. And when coupled with the five-speed manual gearbox, the CRX's fun-to-drive factor attracted still more enthusiasm.

Other standard equipment exclusive for the Si included a ducktail rear spoiler, dual remote exterior mirrors, a sunroof that slid outside the car for maximum headroom and a rear window wiper. Front disc and rear drum brakes were also standard while air conditioning was a dealer installed option.

In 1986, the look of the Si was fine-tuned with glass headlamps, a redesigned front bumper/air dam, flared rocker panels and a new flush-mounted rear spoiler.

The wheelbase was increased to 90.6 inches in 1988 and a high-performance 1.6-liter 16-valve engine, good for 105 horsepower, was added to the CR-X Si and Civic 4WD wagon. And while previously only the Si Civic models had fuel injection, all Civics were now fuel injected.

In 1990, the CR-X got four-wheel disc brakes and a slightly revised dash-board with larger instruments. This version was left unchanged for the 1991 model year, the last for the Honda Civic CR-X.

I still get a bit of a thrill when I see one around town. Fortunately, Honda's outstanding reliability as well as excellent mechanical parts accessibility has kept many on the road.

How To Get The Best Price
Well, in the case of the CR-X, I'd have to say it's really tough to get a great deal because so few are available at any one time which eliminates pitting one seller against another. I guess just keep your eyes peeled for a private seller who needs to unload one for one reason or another.

Another possibility would be to continually checkout public auto auctions in your own geographic area, and perhaps beyond. While there can be a lot of junk vehicles at these auctions, there can also be absolute gems sprinkled in as well. This article reviews what to expect at open-to-the-public car auctions and how to locate them in your own area.

Also ... for those of you who might be interested in a brand new vehicle, if the price was crazy good, here's info on exactly How To Get The Best Price On A New Car, Truck Or SUV. This works just phenomenally well.


Other Pages Of Possible Interest:
Additional Models Of Possible Interest:


Auto Broker Magic
West Palm Beach, Florida
Site Map | Disclosure
© copyright 2008 - 2021, Josh Rosenberg. All Rights Reserved.