When the Suzuki Aerio was introduced in 2002, it was among the smallest cars available in the United States. Suzuki used the Aerio as a replacement to their Esteem wagon and sedan, making it Suzuki's entry level subcompact car. The Aerio not only came as a four door sedan but also in a wagon body style and became well known for being one of the most affordable cars to offer all-wheel-drive (optional).

They have an attractive, open interior which greatly assists with driver visibility, excellent maneuverability and initially came standard with a fiesty 145 horsepower four-cylinder engine. The engine was upgraded in 2004 to a 155 hp engine, making it one of the most robust in the subcompact segment.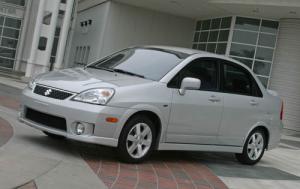 Antilock braking was an optional feature in earlier models, but became standard in 2006. Aerios also came with power windows and mirrors, air conditioning, a compact disc player, a tachometer, and split folding back seats. Aerios are available with both manual or automatic transmissions.

The Aerio was produced through 2007 as a sedan and 2006 as a hatchback wagon. The sedan came in S and GS (changed to LX in 2004) models, while the hatchback was offered in a single trim, the SX. For 2006, both the sedan and hatchback were offered in either base or Premium trims.
Suzuki Aerio shoppers should note that they were powered originally by a 2.0-liter inline four-cylinder engine. In 2004, power was boosted via a 2.3-liter four-cylinder. The standard transmission was a 5-speed manual on entry-level cars, while a 4-speed automatic was optional. Higher trim levels came standard with the 4-speed automatic. During the first two years, the Aerio was front-wheel drive only. For 2003, all-wheel drive was added.

Also of note are the more significant changes that took place over the years in addition to the increased engine size in 2004 and the availability of all-wheel drive in 2003. For the 2003 model year, both the GS And SX models got some interior trim refinements and a standard 6-disc CD player. For 2004, a 7-speaker audio system, a new 15-inch alloy wheel design (optional) and a driver-seat armrest were added on all models, while the LX sedan and SX wagon also offered foglights, a revised rear spoiler, heated mirrors and automatic climate control for models with ABS.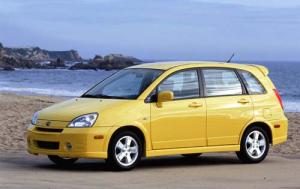 Many changes occurred for the 2005 model year. The Aerio got a revised grille, front bumper and foglamp, a new rear spoiler on the sedan, new alloy wheels and new clear-lens taillights on the hatchback SX. All Aerios got a new steering wheel with audio controls, automatic climate control, a new analog-gauge instrument panel (had been digital), a redesigned console, side airbags and upgraded fabric, while the base S model gained standard keyless entry, power door locks, a rear spoiler and some new interior trim accents.
For 2006, Suzuki added a new MP3-compatible, 6-speaker CD stereo system and standard antilock brakes (ABS), while the hatchback was dropped for 2007. After the 2007 model year, the Aerio was taken out of production to make room for Suzuki's SX4 hatchback and SX4 sport sedan.
Also ... for those of you who might be interested in a brand new car, if the price was crazy good, here's info on exactly How To Get The Best Price On A New Car, Truck Or SUV. This works just phenomenally well.


Other Pages Of Possible Interest:
Additional Models Of Possible Interest:


Auto Broker Magic
West Palm Beach, Florida
Site Map | Disclosure
© copyright 2009 - 2022, Josh Rosenberg. All Rights Reserved.