Potential used Toyota RAV4 buyers can use this information to help identify which models may be the best fit as well as how to then purchase the vehicle at the best possible price ... and yes, even at wholesale.
The RAV4 is yet another versatile and top quality vehicle from Toyota. We've had quite a few here over the years and have always been impressed. It's likely one of the best compact SUVs in the market.
The Toyota RAV4 is the smallest of Toyota's rather large lineup of SUVs and was one of the first crossover SUVs available. This has enabled the RAV4 to benefit from years of refinement and develop many best-in-class attributes. Many of its crossover competitors are still in their first generation, while the RAV4 is currently in its third.

We think they're a great alternative for SUV shoppers who don't need quite the typical SUV bulk and space. Even so, we find the interior space in the RAV4 to be quite adequate for most needs. Pluses also include fairly economical prices, good fuel economy, excellent maneuverability, a high level of quality and easy driving.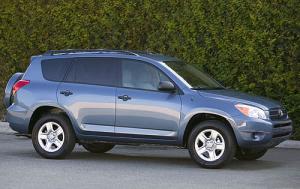 It possesses both the comfort and driving ease of a car as well as fuel-efficient engines. With these qualities, it's an appealing match for young families and urban singles seeking a smallish SUV that strikes a nice balance between the typically more mundane station wagon and a traditional truck-based SUV.
Most drivers will be satisfied with its very capable four-cylinder engine ... and its excellent gas mileage. But there is also a V6 for those seeking additional power.

It's also very easy to drive with light steering and excellent brakes. And it's well equipped as well, with power accessories, cruise control and a host of safety features (including stability control) coming standard even on the base model.
Used Toyota RAV4 choices:

The current third-generation Toyota RAV4 has been produced for the 2006 through the current model year. This version is larger than its predecessors and represents the only RAV4s available with a V6 engine and a third-row seat. And there have been few changes during this production run.

This current Toyota RAV4 is available in Base, Sport and Limited models, with either a four-cylinder or V6 engine, and either front-wheel drive or all-wheel-drive. The standard transmission is a 4-speed automatic for the four-cylinder and a 5-speed automatic for the V6.

It has also grown to nearly the length of Toyota's midsize Highlander while its 3.5 liter V6 is actually more powerful, producing a hefty 269 horsepower. Still, due to its narrower width and overall lighter weight, it has the advantages of being easier to park and gets better gas mileage when similarly equipped. In fact, it's one of the most fuel efficient V6's in its segment.

The four-cylinder is a 2.5 liter that produces 179 horsepower, surprisingly good acceleration and excellent fuel mileage performance. And with either engine, the steering is light and responsive while the brakes are strong. When properly equipped, used RAVs with the V6 have a towing capacity of a very respectable 3,500 pounds.

The second-generation Toyota RAV4 was produced for the 2001-2005 model years. It too was larger and more stylish than its predecessor and featured innovative removable second-row seats that allowed for huge cargo space flexibility.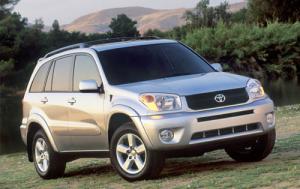 The early versions were equipped with a 2.0-liter four-cylinder engine that produced 148 horsepower. In 2004, it was replaced with a 2.4-liter four-cylinder good for 160 horsepower. This improved acceleration significantly and both manual and automatic transmission models were available. Again, overall this was a fun-driving vehicle with precise suspension tuning and excellent gas mileage ratings.

The first-generation Toyota RAV4 was produced from 1996 to 2000 and was available in two-door and four-door body styles, and even briefly had a convertible model. This version of the used RAV4s is primarily more appropriate for singles as its narrow width and somewhat cramped rear legroom made it less than ideal as a family SUV. That said, it still offered a carlike drive as well as a low cargo floor and large rear door that significantly eased cargo loading.

Overall, we think the RAV 4 makes an excellent choice as a used SUV purchase.


How To Buy A Used Toyota RAV4
At The Best Price:
There are actually several different ways to buy a used RAV4 at the lowest price, and even at wholesale. You can click on the links to each of the following methods to get the specific instructions.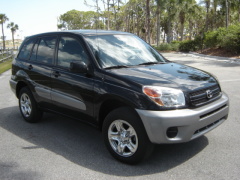 First of all, here's a Lowest Price Used Car Buying Guide that details a super effective method, one that often beats down prices even to wholesale levels. And somewhat related to this, here's another excellent method that identifies Price-Distressed Cars Right On Dealer Lots. These are vehicles they are so desperate to unload they would welcome your wholesale offer.

In addition, you can also try the Public Car Auctions in your own geographic area. While there can be a lot of junk vehicles at these auctions, there are often absolute gems sprinkled in as well. This article reviews what to expect at open-to-the-public car auctions and how to locate them in your own area.

Also ... for those of you who might be interested in a brand new Toyota RAV4, if the price was crazy good, here's info on exactly How To Get The Best Price On A New RAV4. This works just phenomenally well.


Other Pages Of Possible Interest:

Additional Models Of Possible Interest:



Auto Broker Magic
West Palm Beach, Florida
Site Map | Disclosure
© copyright 2015, Josh Rosenberg. All Rights Reserved.