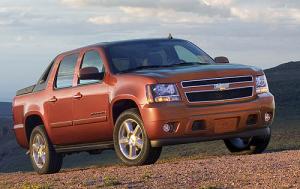 Potential older used Chevy truck buyers can use this information to help identify which models may be the best fit as well as how to then purchase the vehicle at the best possible price ... and yes, even at wholesale.

Chevrolet has been producing a wide array of dependable trucks at reasonable prices for many, many years.

For years General Motors' Chevy pickup trucks played runner-up to America's favorite pickup, the Ford F-Series. But in the 2000's, the Silverado, Avalanche and Colorado carved out a solid position in this marketplace with improved sales thanks to a versatile and appealing lineup.

The Avalanche, for example, is notable for its sleek design, powerful V8 engines and strong towing ability while still providing quiet and comfortable daily driving. Redesigned for the 2007 model year and produced through 2013, Chevy's reconfigurable truck was given more power and additional features.
The Avalanche is basically a Chevy Suburban with a crew-cab and a folding midgate that separates the cab from the cargo bed. Lowering the midgate extends the bed from 5.3 feet to 8.2 feet. It's top competitors include conventional full-size pickups such as the Dodge Ram 1500, Ford F-150, and Toyota Tundra.

The Silverado has very roomy extended and crew cab models, strong engines, decent gas mileage and even comes as a hybrid. Chevrolet redesigned its half-ton pickup trucks for 2007, giving them a new look, more power, and additional features. This Second generation version was produced through 2014.

The Silverado was made 3 inches longer and 1.5 inches wider, while the wheelbase remained the same. Regular, extended, and crew-cab body styles were continued.

The extended-cab's rear-hinged back doors do not open independently of the front doors, but now open wider than earlier models. Extended and crew cab models include a three-passenger rear bench seat and a choice of front bucket seats or a bench. The regular cab models come only with the three-passenger front bench.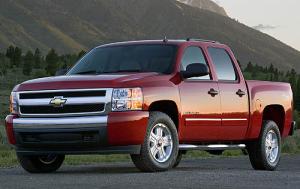 And replacing the S10, the Chevy Colorado is one of the biggest, boldest and most refined compact trucks available, with excellent on and off-road handling, simple controls and side curtain airbags on all body styles.

Pre-2013 models included regular, extended, and crew cab form. A big transformation took place in the engines with a 175 horsepower 2.8 liter replacing the 120 horsepower 2.2 liter four-cylinder base engine. A 220 horsepower 3.5 liter inline five-cylinder also replaced the earlier 190 horsepower 4.3 liter V6.

Both engines have dual overhead cams versus overhead valves and come with either a manual transmission or four-speed automatic. And both are available with rear-wheel drive or four-wheel drive with low-range gearing (must disengage on dry pavement).

Nomatter what your choice, overall we happen to be big fans of Chevy trucks and believe they make an excellent choice as a second-hand purchase.

Buy at wholesale?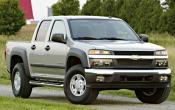 So lastly, there are actually several different ways to buy a used Chevy truck at the lowest price, and even at wholesale.

First of all, here's a lowest price used car buying guide that details a very effective method, one that often beats down prices even to wholesale levels. And somewhat related to this, here's another method that identifies price-distressed cars right on dealer lots. These are vehicles they are so desperate to unload they would welcome your wholesale offer.

In addition, you can also try the public car auctions in your own geographic area. While there can be a lot of junk vehicles at these auctions, there are often absolute gems sprinkled in as well. This article reviews what to expect at open-to-the-public car auctions and how to locate them in your own area.

And for those of you who might be interested in a brand new Chevy truck if the price was crazy good, here's info on exactly how to get the best price on any new car. This works just phenomenally well.


Other Pages Of Possible Interest:
Additional Models Of Possible Interest:


Auto Broker Magic
West Palm Beach, Florida
Site Map | Disclosure
Copyright 2009 - 2021, Josh Rosenberg. All Rights Reserved.