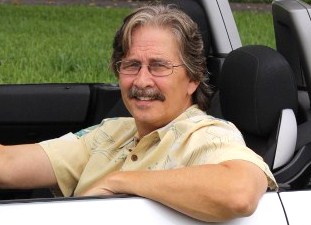 Josh Rosenberg
We don't just talk cars ... we teach how to buy them.

Overview Of The Re-Introduced Sixth
Generation (2006 - 2010) Dodge Charger

Potential used Dodge Charger buyers can use this information to help identify which models may be the best fit as well as how to then purchase the vehicle at the best possible price ... and yes, even at wholesale.

Due to its Nascar racing history and the old, but very popular, "Dukes Of Hazard" TV show, the Dodge Charger nameplate is one of the most prominent among U.S. car makers.

The "new" Charger was reborn with the 2006 model ... not so much as the pure "muscle car" of the 1960's, but more of an affordable performance car with plenty of amenities.

Based on the same Mercedes platform as the Chrysler 300, this Charger is slightly larger than the average midsize four-door sedan. However, it's designed with a more aggressive looking front facsia than the 300 and its rear roof line slopes downward for a coupe-like appearance.

These older Chargers can be found in four trim levels: the base SE, the very well equipped SXT, the more performance oriented RT and the powerpacked SRT8. Even the base model comes fairly well equipped and sports a 250 horsepower, 3.5 liter V6 engine. The R/T ramps that up to a 5.6 liter HEMI V8, good for 340 hp.

The SRT-8, a product of Chrysler's Street and Racing Technology Division, is the fastest of the Charger models and is equipped with a 6.1 liter Hemi capable of producing 425 horsepower. In addition to its powerful engine, the SRT8 comes with a specially designed 5-speed automatic transmission, larger brakes and a stiffer suspension.

All Chargers except the SRT8, which is rear-wheel drive only, can be found in either rear-wheel or all-wheel drive forms ... and all are equipped with a 5-speed automatic transmission.

In the marketplace, the new Charger gained immediate acceptance and has earned considerable praise for its handling, comfortable and roomy interiors, good looks and powerful engines.

Important considerations for used Dodge Charger shoppers:

While the current Dodge Charger was introduced for 2006, during the first two years the Charger's interior was of a somewhat lesser quality. This was significantly improved for the 2008 model year. The Charger SXT was also introduced for 2008. And for the 2009 model year, the RT got a power boost from 340 to 368 horsepower and a Super Bee package for the SRT8 was made available for the first time.

While there will be some variations in features depending on the model year, here is generally how the various Charger models you may be considering are equipped:

Standard features on the Charger SE model include full power accessories, air conditioning, cloth seats, 17 inch steel wheels, a tilt/telescoping steering column and a CD/MP3 stereo system.

The Charger SXT comes with the more powerful V6 engine, a power driver seat, alloy wheels, power-adjustable pedals, a 60/40-split rear seat and a Boston Acoustics sound system.

Some used Charger SXT models can also be found with optional features such as Bluetooth, a sunroof, MyGIG infotainment with or without navigation, automatic headlamps and a rear DVD/Backseat TV entertainment system. In addition, some used SXT's can be found with the Popular Equipment Package which added features such as heated leather-trimmed front seats, machined aluminum wheels, dual-zone automatic climate control, an upgraded audio system and a power passenger seat.

The Charger R/T is equipped very much like the SXT, but adds a V8 engine plus dual exhaust, heated folding mirrors and an enhanced Auto Stick transmission. Used Charger R/T models can also be found with options such as xenon headlamps as well as the same major options as the SXT.

R/T-specific optional packages include the Popular Equipment Package which features 18 inch chromed alloy wheels (on the RWD only), remote start, an upgraded surround-sound audio system, interior LED-illuminated accents and an Electronics Display Package. Some R/T's can also be found with the Daytona Edition or Road/Track Performance packages which include sport-tuned suspension and steering, 20 inch chrome wheels with high-performance tires, unique badging, heated front seats with suede trim and a special exhaust system that boosts horsepower by 10 on the rear-wheel drive models.

The high-performance-oriented Charger SRT8 comes with the larger Hemi V8 plus a specially calibrated and lowered suspension, more powerful brakes, 20 inch aluminum wheels, sport seats, its own instrument cluster and a reconfigurable display. Used SRT8's can also be found with optional navigation, rear entertainment and a Kicker premium audio system. Some can also be found with the unique graphics and special blue exterior paint of the Super Bee Special Edition package (on SRT8's only).

Overall, for used car buyers looking for a modern version of a "muscle car", the Charger is most definitely an excellent choice.


How To Buy At The Best Price

There are actually several different ways to buy a sixth=generation Charger at the lowest price, and even at wholesale. You can click on the links to each of the following methods to get the specific instructions.

First of all, here's a Lowest Price Used Car Buying Guide that details a super effective method, one that often beats down prices even to wholesale levels. And somewhat related to this, here's another excellent method that identifies Price-Distressed Cars Right On Dealer Lots. These are vehicles they are so desperate to unload they would welcome your wholesale offer.

In addition, you can also try the Public Car Auctions in your own geographic area. While there can be a lot of junk vehicles at these auctions, there are often absolute gems sprinkled in as well. This article reviews what to expect at open-to-the-public car auctions and how to locate them in your own area.

Also ... for those of you who might be interested in a brand new Dodge Charger, if the price was crazy good, here's info on exactly How To Get The Best Price On A New Charger. This works just phenomenally well.



Other Pages Of Possible Interest:
Additional Models Of Possible Interest:


Auto Broker Magic
West Palm Beach, Florida
Site Map | Disclosure
© copyright 2008 - 2021, Josh Rosenberg. All Rights Reserved.