Potential used Chevrolet Camaro buyers can use this information to help identify which models may be the best fit as well as how to then purchase the vehicle at the best possible price ... and yes, even at wholesale.

In 2002, the Chevy Camaro was put out to pasture, prematurely as it turns out. This "All American Muscle Car" was sorely missed, and happily, GM brought it back in early 2009 as the new 2010 Chevrolet Camaro and was produced through the 2015 model year.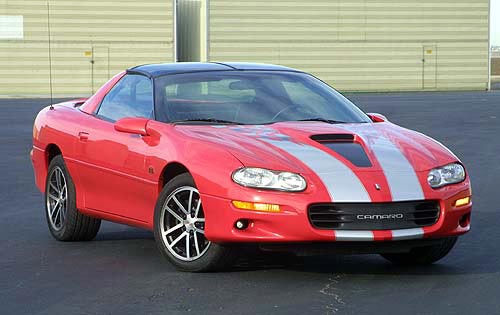 Here's some background information on the Camaro in case you're considering one as a used car purchase:

The previous Camaro generation was produced from 1993 to 2002 and these can still be found out there, although fewer and farther between. This generation continued the Camaro tradition of emphasizing both style and performance.
The '93 Camaro was available in base and Z28 trims (there was no convertible). The base engine was a 160 horsepower 3.4-liter V6 while the Camaro Z28 was powered by a robust 275 horsepower LT1 5.7-liter V8. Transmissions included a five-speed manual on the V6, a six-speed manual for the V8 and a four-speed automatic.

The convertible returned in 1994, while 1995 saw more power added with a new 200 horsepower 3.8-liter V6 for the base model. In 1996, power was upped to 285 horsepower for the Z28 and the SS model returned to the lineup equipped with a version of the 5.7-liter V8 that produced 305 horsepower.
1998 saw a new front-end design as well as a powerful new 305 horsepower LS1 5.7 V8 engine for the Z28 and a 320 horsepower version for the SS. The Camaro then remained mostly unchanged, aside from a boost to 310 horsepower for the Z28 in 2001, until the plug got pulled after the 2002 model year.

The strengths of the Chevrolet Camaro during this generation were its strong driving performance (even with the V6), stylish design, decent fuel economy, good mechanical reliability and affordability. On the downside, however, GM had allowed the Camaro to fall behind in interior refinement. The cabin's construction quality seemed cheap and consisted of a lot of fairly low-grade plastic trim, the steering wheel was unsporty and old-fashioned and the seats were below par and lacked support.

The result was a loss of consumer interest as they moved on to vehicles with larger, more comfortable and more refined vehicles.

But fast-forward to 2009 and the Camaro returned with a 2010 model that not only offers its traditional strength of a lot of performance for the buck, but does so with a level of refinement missing from earlier Camaros.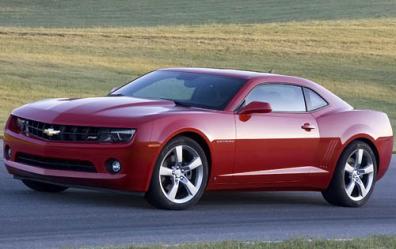 This fifth Camaro generation sports 1969-themed styling and is built on a shortened version of GM's Zeta platform that had been used on large rear-drive sedans like the Pontiac G8. Models include the base LS, midgrade LT and high-performance SS.

Powering this Camaro LS and LT is a 3.6-liter, direct-injection V6 engine that's good for 304 horsepower and 273 pound-feet of torque. It's coupled with a six-speed manual transmission on the V6, while other used Camaros can be found with the optional six-speed automatic.

The Camaro SS, also available in six-speed manual or automatic forms, comes with a powerful 6.2-liter V8 that's rated at 422 horsepower and 408 lb-ft of torque with the manual, while the automatic is tuned for 400 horsepower for better fuel efficiency.

LS and LT models are quick, athletic and attractively designed, yet now possess the comfort and features that will satisfy most shoppers. And the Camaro SS offers dynamic performance at a level as good as or better than cars twice as expensive.

Overall, and no surprise here, we think the Chevy Camaro makes a solid choice as a used car purchase for those looking for a more performance-oriented vehicle with pizzaz and style ... and without breaking the bank.

How To Buy At The Best Price:
There are actually several different ways to buy a used Camaro at the lowest price, and even at wholesale. You can click on the links to each of the following methods to get the specific instructions.

First of all, here's a Lowest Price Used Car Buying Guide that details a super effective method, one that often beats down prices even to wholesale levels. And somewhat related to this, here's another excellent method that identifies Price-Distressed Cars Right On Dealer Lots. These are vehicles they are so desperate to unload they would welcome your wholesale offer.

In addition, you can also try the Public Car Auctions in your own geographic area. While there can be a lot of junk vehicles at these auctions, there are often absolute gems sprinkled in as well. This article reviews what to expect at open-to-the-public car auctions and how to locate them in your own area.

Also ... for those of you who might be interested in a brand new Chevy Camaro, if the price was crazy good, here's info on exactly How To Get The Best Price On A New Camaro. This works just phenomenally well.


Other Pages Of Possible Interest:

Additional Models Of Possible Interest:



Auto Broker Magic
West Palm Beach, Florida
Site Map | Disclosure
© copyright 2009 - 2021, Josh Rosenberg. All Rights Reserved.