While the Volkswagen Jetta may have some historically strong selling points, the 2013 model is getting a little long in the tooth now and should be looked at in isolation. First, and very importantly, let's look at pricing.
Used 2013 Jetta Prices
Of course, prices of this Jetta in the used market will vary based on vehicle condition, mileage, trim level, location, and additional features or options. But here are some ranges for good condition, average mileage models:
Base Model (S or similar trim): $9,000 to $12,000
Mid-Level Trims (SE, SEL, TDI, etc.): $10,000 to $15,000.
High-Performance or Specialty Trims (GLI, Hybrid):$12,000 to $18,000
Please keep in mind that prices can also vary based on modifications or upgrades as well as market conditions effecting supply and demand.
Also, Things To Do When Considering An "Older" Vehicle
Locate Lower Mileage Vehicles: They are certainly out there to be found with careful and patient shopping. Be willing to drive a distance if you have to.
Vehicle History and Maintenance: Ask for the vehicle history report (CarFax or AutoCheck) as well as documented maintenance and repair records. If not provided by the Dealer or private seller, it's usually best to move on.
Pre-Purchase Inspection: Have the vehicle independently inspected before making a final decision. This usually will cost in the $150-$200 range but is well worth it given the potentially thousands in savings over the long term.
Also, Always Know The Value Of Your Trade-In!
Whether you are trading or selling on your own, it's just a good idea ... even whether you are in the market or not at the moment. You can then use this important information for a number of purposes ... to negotiate with a dealer, or to know how to price your car in the retail market, or simply to know the value of one of your assets, which is always a good idea.
Getting trade-in values online tend to vary a lot from site to site. But I've found the one at Edmunds Trade-In Quotes is particularly comprehensive and accurate. It's free, it's quick and there's no contact by any third parties. I think what helps its accuracy is the inputs will include either your plate# or VIN#. They really focus in on the specific vehicle.
2013 Jetta Overview
Following the Jetta's significant redesign and price reduction in 2011, with the intent of making it more mainstream, the 2013 Jetta continued to offer one of the most spacious interiors in the small sedan segment of that time. Coupled with a comfortable drive and ample features, this Jetta can be a solid pick despite cutting back on some of the previous generation's overall premium look and feel.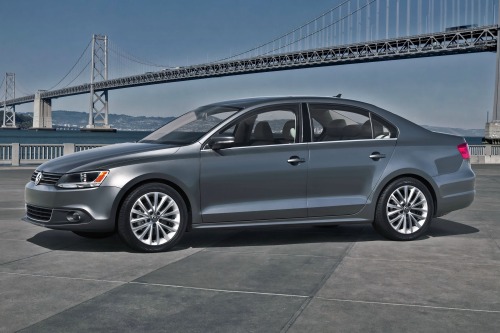 That said, while the 2013 Volkswagen Jetta is generally considered a reliable car, over time there have been some mechanical problems. And they often require more expensive parts and labor than many other brands.
Specific changes for the 2013 model year were minimal with some of the upper-level models getting several new features, while all models except the base came standard with four-wheel disc brakes. And a new hybrid model was introduced later in the model year.
Jetta Pros
Smooth ride: The 2013 Jetta offers a "European" ride that feels solid and secure. It's ride quality should satisfy most drivers thanks also to a suspension that does a good job absorbing most road bumps and rough spots.
Spacious cabin: The interior dimensions are roomy and the back seat is particularly passenger-friendly with accommodations that offer 2 additional inches of legroom over the Chevy Cruze or Honda Civic, and 5 more than the Ford Focus. It's large enough to comfortably sit full-size adults, a fairly uncommon feature in a compact car.
Related Articles:
How To Get The Best Price For Your Trade-In
Spot Wholesale Opportunities Right On Dealer Lots
Easy Negotiation Tactic To Buy A New Car At The Lowest Price
This One Tip Will Save Thousands On Car Insurance
Solid Build Quality: Volkswagen has a reputation for producing vehicles with a solid and well-built feel, and the 2013 Jetta was no exception. Owners often appreciated the car's overall construction quality.
Spacious trunk: It's nice to have a 15.5-cubic-foot trunk in a small sedan ... again one of the largest in its class.
Generous standard feature list: While losing some of its premium pizzaz in the 2011 makeover, most models still include a fairly generous list of standard features, while the upper models come with an upscale touchscreen interface and a premium Fender sound system. Even the Jetta S comes standard with air-conditioning, keyless entry, power door locks and power/heated side mirrors.
Safety Features: The 2013 Jetta came equipped with various safety features, including multiple airbags, stability control, anti-lock brakes, and traction control. It received good safety ratings in crash tests by the IIHS and NHTSA.
Manual Transmission Option: Many enthusiasts appreciated that the 2013 Jetta offered a manual transmission option for those who preferred a more engaging driving experience.
Sporty GLI model: The Jetta GLI has the handling and driver-feel of a sport sedan with an engine that is strong and responsive as well as one of the better electrically assisted steering systems.
Under the hood is a 200-horsepower 2.0-liter turbo four-cylinder that takes the GLI from 0 to 60 in a quick 7.8 seconds, while still providing solid fuel economy numbers of 22 mpg city and 33 mpg highway with the manual and 24 and 32, respectively, with the auto-manual.
The GLI also comes with red brake calipers, 17-inch alloy wheels, sport bumpers, tinted taillights and side skirts. The GLI Autobahn model adds heated seats, 18-inch alloys, a power sunroof and a premium sound system.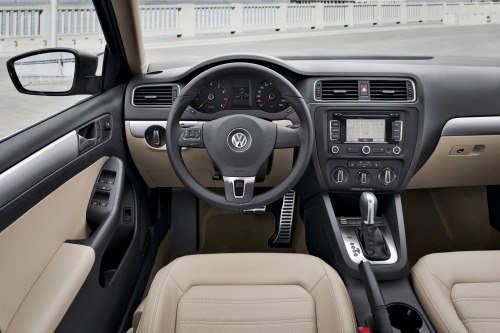 Jetta Cons
Mechanical Issues: It's normal for vehicles to have mechanical problems over time. While not necessarily a deal breaker, issues for the 2013 Jetta have included stalling and rough running engines, keys getting stuck in the ignition and electrical problems, including issues with the power windows, door locks, and infotainment system.
And on diesel models, there's also been fuel pump failures.
Some mediocre interior materials: While the cabin's build quality is tight, the design is on the fairly bland side and the use of hard plastics doesn't help the ambience. The environment changes markedly by moving up to the SEL trim level.
Weak base engine: The base 2.0-liter engine is underpowered, producing a light 115 horsepower and 125 lb-ft of torque, which can result in uninspiring acceleration in some circumstances. Moving up to the 2.5-liter in the SE boosts output to a much more robust 170 horsepower and 177 lb-feet of torque.
In addition, the larger engine also surprisingly outperforms the smaller one in terms of fuel economy, with an automatic getting 24 city and 31 highway while the 2.0's automatic comes in at 23 city and 29 highway. And the 2.0's manual model just barely bests the 2.5's with 24 city/34 highway versus 23 city/33 highway.
Sluggish throttle with automatic: While the 2.5-liter is the better engine, it has a slight hesitation between applying the gas pedal and the actual engine reponse in the automatic and auto-manual transmission models. This isn't a big drawback, but can be a bit annoying until you get accustomed to it.
The 2013 Jetta Overall
The 2013 VW Jetta can make a solid choice in the compact sedan category due to its comfortable ride, roomy cabin and ample standard feature list. Like all cars, however, it has some quirks and negatives as well which each prospective buyer will need to weigh.
Therefore, it's very advisable to test-drive and get a pre-purchase inspection by a trusted mechanic to identify any potential issues with any model you are considering.
And how do you get the lowest price? Well, that comes done to negotiating. For the most effective way of doing that, please read how to get the best price on a used car.
Other 2013 models to consider would include the Honda Civic, the Hyundai Elantra, the Subaru Impreza, the Mazda3, the Chevrolet Cruze and the Ford Focus.