In today's extremely high-priced new and used car markets, many buyers have been forced to consider older vehicles as a means to a better budget fit.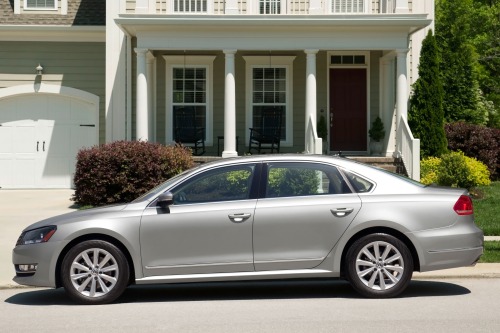 This has caused the 2013 Passat, along with many other vehicles, to be looked at again from this new vantage point. So here, we'll look at it's pros, cons, mechanical problems and current prices to help car shoppers determine if this older Passat should be on their list of possible choices.
Although manufactured in Tennessee and designed specifically for "American" tastes, the Passat still stands out from the pack with a certain "European" upscale flair and refinement that makes it unique in the midsize family sedan segment. While the cabin exudes an overall premium look and feel, on the road it exhibits confident and responsive handling without sacrificing comfort or ride quality.
2013 Passat Pros
Refined and quiet ride: This Passat earns high marks for road manners. Not only does it possess confident handling, but its suspension also does a nice job absorbing road bumps and rough spots. The highway drive is particularly quiet and pleasing thanks to the smooth ride and abundant noise insulation.
High-quality and spacious cabin: The cabin is attractively designed and user-friendly, while the materials quality is one of the best in its class. The overall ambience is one of a premium look and feel.
Roominess is another strongpoint as this midsize sedan's interior borders on full-size sedan dimensions, making for comfortable accommodations and ample legroom for most occupants, both front and rear.
Car Buying Tips:
Do This To Get The Best Price For Your Trade-In
How To Get The Lowest Rate Car Loan
The Truth About Wholesale And Trade-in Values
Available diesel model: The Passat is also offered with a 2.0-liter four-cylinder turbodiesel engine able to produce 140-horsepower and a robust 236-pound-feet of torque. Although involved in Volkswagen's mpg controversy, driving enthusiasts still appreciate its acceleration and handling, particularly those with the 6-speed manual transmission.
Powerful V6 engine: For those more concerned with power over gas mileage, the 3.6-liter V6 engine ups the ante on acceleration considerably. Good for 280-horsepower and 258-pound-feet of torque, it comes standard with the 6-speed dual-clutch automated manual transmission and can go from a standstill to 60 mph in a very quick-for-this-class 6.4 seconds.
Fuel economy drops, of course, with this additional thrust, but still comes in at a respectable 20 mpg city and 28 highway.
Excellent safety ratings: In government crash tests, the 2013 Passat was awarded the top score of five out of five stars for overall occupant protection, consisting of five star ratings for both side impact and frontal impact protection.
In addition, standard safety features include stability control, traction control, antilock disc brakes, front side airbags and side curtain airbags. Manual transmission models also come standard with hill-hold control.
And if involved in a crash, VW's Intelligent Crash Response system automatically cuts off the gasoline supply, turns on the hazard lights and unlocks the doors.
Large trunk: The cargo capacity for the trunk is a generous 15.9 cubic feet, more than most of its segment rivals.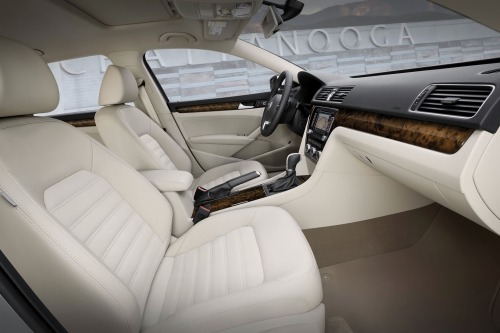 2013 Passat Cons
Plain styling: Some people find the Passat's exterior and interior styling to be conservative and plain, lacking the flair or excitement of some competitors.
Limited standard features: While it has a comfortable and well-made interior, some advanced features that come standard in other midsize sedans may be optional or absent in the base trim levels.
Below-average braking distances: In independent performance tests, the Passat underperformed its competitors in the braking distance category. Both a TDI and 3.6 SEL came to a stop from 60 mph in approximately 130 feet, a below-average outcome. A 2.5 SE, however, completed the task in a class-average 123 feet.
Slight lag in throttle response: While the DSG automated manual transmission (available on the TDI and standard on the V6) handles its shifting duties well, both it and the regular automatic have a slight but noticeable lag when the gas pedal is pressed and just before the engine actually responds.
Rear headroom: While the cabin is generally roomy and legroom in particular is ample, the backrest is very upright which can limit headroom for taller passengers.
2013 Volkswagen Passat Mechanical Problems
It's important to note that the severity and frequency of the below issues can vary from one vehicle to another. Regular maintenance and prompt repairs likely prevented some of these problems in many vehicles, making them more reliable today.
When considering a used 2013 Passat, it's very important to have an independent pre-purchase inspection to check both for any of these issues, as well as any others. In addition, get the vehicle's history report and its maintenance records.
This Passat, like any car, may experience various mechanical issues over time. Here are some common mechanical issues reported by owners and known problems associated with the 2013 Passat:
Transmission problems: Some owners have reported issues with the automatic transmission, such as rough shifting, slipping, or failing transmissions.
Electrical problems: There have been reports of electrical issues, including problems with the infotainment system, power windows, door locks, and other electrical components. These issues can be frustrating to deal with and costly to fix.
Engine issues: While some of the engine options are known for their reliability, like the 2.5-liter five-cylinder and the 2.0-liter TDI diesel, there have been reports of engine-related problems. These can include issues with the turbochargers, engine sensors, and fuel system components.
Cooling system: Some Passat owners have experienced cooling system problems, such as radiator and coolant leaks. Overheating issues can lead to engine damage if not addressed promptly.
Suspension and steering: Suspension and steering components can wear out over time. Owners have reported issues with control arms, struts, and tie rod ends. These issues can affect ride comfort and handling.
Timing chain tensioner: Some Passat models with the 2.0-liter TSI engine have experienced problems with the timing chain tensioner. If not addressed, this issue can lead to engine damage.
2013 Passat Prices
The following are estimates of current fair market values for well-maintained, average mileage vehicles. Please keep in mind that used car prices can vary significantly depending on factors such as location, condition, mileage, and additional features.
2.5L S Sedan: $7,300
Wolfsburg Edition Sedan: $7,700
2.5L SE Sedan: $7,500
TDI SE Sedan: $7,500
2.5L SEL Sedan: $8,700
V6 SE Sedan: $8,700
2.5L SEL Premium Sedan: $9,100
TDI SEL Premium Sedan: $7,600
V6 SEL Premium Sedan: $8,800
Prices can also vary based on modifications or upgrades as well as market conditions effecting supply and demand.
2013 Passat Rivals
Yes, the 2013 Passat is a good value for a German car as well as for the midsize segment overall, and is cheaper than other midsize cars like the Honda Accord or Hyundai Sonata.
And it happens to be competing in a class crowded with solid choices, each with its own upsides and downsides. Those worthy of consideration would include the Ford Fusion, the redesigned Honda Accord, the Hyundai Sonata and its sibling the Kia Optima, the Nissan Altima, the Mazda6 and the Toyota Camry.
Lastly, Suggestions For Getting The Lowest Price
First of all, here's a Lowest Price Used Car Buying Guide that details a very effective method.
Here's another method that identifies Price-Distressed Cars Right On Dealer Lots. These are vehicles they are so desperate to unload they would welcome your wholesale offer.
In addition, you can also try the Public Car Auctions in your own geographic area. This article reviews what to expect at open-to-the-public car auctions and how to locate them.
And for those of you who might be interested in a "brand new" Passat if the price was crazy good, here's info on exactly How To Get The Best Price On A New Car. This works just phenomenally well.