With both extremely high new and used car prices, many carbuyers are looking for "older" vehicles as a way to save some significant dollars. And it turns out, the 2012 Passat has proven to be a generally reliable vehicle, and one which can be expected to reach 250,000 miles or so when regularly maintained.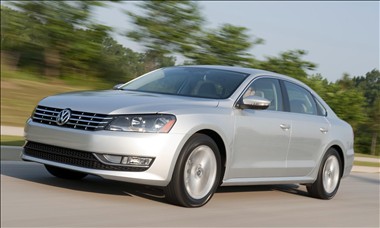 Still, all older used cars require maintenance and repairs, usually more than more recent ones, so this has to be factored into a buying decision as well.
Here, we'll cover this older Passat's pros and cons, its general reliability reputation along with specific mechanical issues to have checked out before purchase, plus a feature overview of the vehicle from when it came out in 2011.
But first, and very importantly ...
Things To Do When Considering An "Older" Vehicle
Locate Lower Mileage Vehicles: They are certainly out there to be found with careful and patient shopping. Be willing to drive a distance if you have to.
Vehicle History and Maintenance: Ask for the vehicle history report (CarFax or AutoCheck) as well as documented maintenance and repair records. If not provided by the Dealer or private seller, it's best to move on.
Pre-Purchase Inspection: Have the vehicle independently inspected before making a final decision. This usually will cost in the $150-$200 range but is well worth it given the potentially thousands in savings over the long term.
2012 Volkswagen Passat Pros
Spacious Interior: This VW Passat offers a roomy interior with generous legroom and comfortable seating, both in the front and rear. It's known for providing a comfortable ride for passengers.
Quality Materials: The interior of the 2012 Passat was well-received for its quality materials and build. It has a solid and upscale feel.
Car Buying Tips:
Do This To Get The Best Price For Your Trade-In
Car Buyers Are Being Forced Into Older Vehicles
How To Get The Lowest Rate Car Loan
Easy Negotiation Tactic To Buy A New Car At The Lowest Price
Fuel Efficiency: This Passat offered a range of engine options, including fuel-efficient ones like the TDI diesel engine. This makes it an attractive choice for those seeking good fuel economy (see mpg info in "Overview" below).
Smooth Ride: The Passat provides a smooth and comfortable ride, with a suspension that absorbs bumps and imperfections in the road, making it a good choice for long highway drives.
Available TDI Diesel Engine: The TDI diesel engine was popular for its strong torque and fuel efficiency, offering an alternative for buyers looking for a more economical and eco-friendly option.
2012 Volkswagen Passat Cons
Limited Standard Features: The base trim levels of the Passat could be somewhat sparse in terms of standard features. To get certain advanced technology and safety features, buyers often needed to opt for higher trim levels or packages.
Resale Value: Volkswagen vehicles, in general, tend to have lower resale values compared to some competitors like Toyota and Honda. This can impact the long-term cost of ownership.
Lack of All-Wheel Drive: The 2012 Passat did not offer all-wheel drive, which could be a drawback for those living in regions with harsh weather conditions.
2012 Volkswagen Passat Reliability
The reliability of a specific vehicle, like the 2012 VW Passat, can vary depending on factors such as maintenance regularity and driving conditions. However, overall this Passat received mostly positive reviews in terms of reliability.
That said, Volkswagen, in general, has had a reputation for slightly lower reliability compared to some of its competitors, such as Toyota and Honda, and somewhat higher maintenance and repair costs. This is something to consider if you're thinking about purchasing a used 2012 Passat or any Volkswagen vehicle.
2012 VW Passat Mechanical Problem Watchlist:
The 2012 VW Passat, while generally reliable, like any car it had its share of potential mechanical issues and common problems reported by owners and mechanics. Keep in mind that not all Passats experienced these issues, and the severity could vary depending on factors like maintenance and driving habits. Here are some common mechanical issues associated with this particular year's Passat that should be checked before purchase:
Electrical Problems: Several owners reported electrical issues with the 2012 Passat, including problems with power windows, interior lighting, and the infotainment system. Electrical malfunctions were a recurring concern.
Engine and Transmission Issues: Some Passat owners experienced problems with the engine and transmission. This could include issues like engine misfires, rough idling, and transmission malfunctions. The dual-clutch DSG transmission, in particular, had some known issues.
Coolant Leaks: Coolant leaks were reported by some owners. These leaks could be due to various factors, including damaged hoses, faulty water pumps, or issues with the cooling system components.
Oil Leaks: Oil leaks were also a common complaint among owners. These leaks could result from problems with the gaskets, seals, or other engine components.
Turbocharger Failures: Some Passat models with turbocharged engines experienced turbocharger failures. These failures could lead to a loss of power and performance.
Suspension and Steering Issues: A few owners reported problems with the suspension and steering components, including worn-out bushings, tie rods, and control arms.
Brake System Problems: Brake-related issues, such as brake pad wear and brake rotor problems, were also reported by some owners.
Air Conditioning and Heating Problems: There were complaints about issues with the air conditioning and heating systems, including failures of the A/C compressor and issues with the blower motor.
It's important to note that the severity and frequency of these issues can vary from one vehicle to another, and not all 2012 Passats experienced these problems. Regular maintenance and proper care can play a significant role in preventing or mitigating some of these mechanical issues.
2012 Volkswagen Passat Overview
Not only was the 2012 Volkswagen Passat Motor Trend's 2012 Car Of The Year, but for those who want to buy "American", this Passat was produced in Volkswagen's new assembly facilities in Chattanooga, Tennessee.
More Car Buying Tips:
This One Tip Will Save Thousands On Car Insurance
The Best Used Cars For Gas Mileage
How To Get The Best Price On A New Honda
And while this Passat is no longer offered with the previous year's energetic turbocharged 2.0-liter engine, there are still three solid choices to pick from: a 2.5-liter inline-5, a 2.0-liter inline-4 diesel (the TDI) and a 280-horsepower 3.6-liter V6. It should also be noted that in addition to offering drivers sporty around-town driving dynamics, the diesel version also cracks the magical 40 mpg number on the highway.
As appealing as this Passat may be, this is a segment crowded with other very worthy contenders as well. Top choices also worth a look include the Ford Fusion, the Honda Accord, the Hyundai Sonata the Kia Optima and the Mazda6.
Trims, Standard Features And Options:
The 2012 Volkswagen Passat sedan is available in three models based on their engines: 2.5L, TDI and 3.6L. These are then further differentiated into three trims: S, SE and SEL.
The base S model, offered only with the 2.5L engine, is already fairly well-equipped with standard features including power windows, power door locks, power mirrors with integrated turn signals, keyless entry, Bluetooth, steering wheel audio controls, automatic dual-zone climate control, cruise control, a trip computer, a tire pressure monitor, 16-inch steel wheels, a 6-speed manual transmission, an 8-way manual driver seat, a tilt/telescoping steering wheel, a full array of safety equipment (see below) and an 8-speaker audio system with a CD/MP3 player and an auxiliary audio jack. Also available is an optional Appearance package that adds a 6-speed automatic transmission, 16-inch alloy wheels and a rear-seat center armrest.
Opting for the SE model adds leatherette premium vinyl upholstery, a 6-way power driver seat, 17-inch alloy wheels, a touchscreen sound system interface, heated front seats, chrome exterior trim and a sliding front armrest. Available optional features for the SE include navigation and a sunroof, while 18-inch alloys and foglights can also be added on the TDI SE. All of these options except the navigation system (remains optional) are standard on the 3.6L SE, along with a premium 9-speaker Fender stereo system.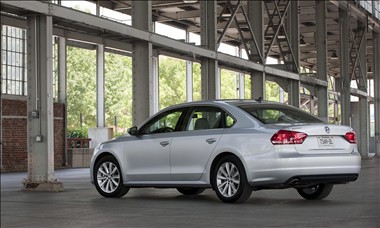 Moving up to the 2.5L SEL adds an upgraded navigation system, the Fender audio system and upgraded front seats, while opting for the SEL Premium package adds leather upholstery, a power passenger seat, driver memory settings, remote start, keyless entry/ignition and foglights. To get either the TDI or the 3.6L in SEL trim, the Premium package is required.
Engines, Powertrain And Gas Mileage:
The 2012 Volkswagen Passat is a front-wheel-drive sedan with a choice of several powertrains. Under the hood of 2.5L models is a 2.5-liter inline-5-cylinder engine that produces 170-horsepower and 177-pound-feet of torque. It comes with either a 6-speed manual transmission or a 6-speed automatic. The gas mileage for the manual is an EPA-estimated 22 mpg city and 32 mpg on the highway, while that of the automatic dips just slightly to 22 mpg city and 31 highway.
Powering the quicker TDI model is a super fuel-efficient 2.0-liter four-cylinder turbodiesel good for 140-horsepower and 236-pound-feet of torque. It can be had with either the 6-speed manual transmission or a 6-speed dual-clutch automated manual (called DSG). Its impressive gas mileage numbers come in at 31 mpg city and 43 on the highway with the manual and 30 and 40, respectively, with the DSG.
The most powerful Passat engine choice is the 3.6L's 3.6-liter V6 which pumps out 280-horsepower and 258-pound-feet of torque. It comes standard with the 6-speed automated manual, while its fuel economy is EPA-rated at 20 mpg city and 28 on the highway. In performance tests, the 3.6L has been timed from a standstill to 60 mph in a very quick-for-its-class 6.4 seconds.
Safety:
Standard safety features in the 2012 Passat include stability control, traction control, antilock brakes (ABS), front side airbags, side curtain airbags and a crash sensing system which automatically disconnects the battery, cuts off the fuel, turns on the flashers and unlocks the doors.
This Passat also earned the highest overall safety rating of five out of five stars in crash tests with the federal government's National Highway Traffic Safety Administration.
Interior: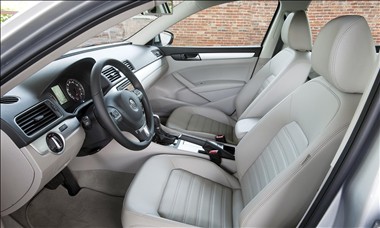 The Passat's cabin is attractive, roomy and well-constructed. The rear seat is particularly roomy thanks to an additional 3 inches of legroom, putting it on the cusp of a full-size sedan and making for very accommodating quarters for most adults on those long trips. The seating is also comfortable and supportive, both front and rear, while the features are user-friendly. And when it comes to trunk space, most needs will be met with the Passat's quite generous 15.9 cubic foot cargo capacity.
While the interior materials quality is still among the very top for this segment, they are actually not quite at the loftier level of the more expensive previous model. However, I doubt there will be many complaints in this department as the cabin still possesses an overall upscale look and feel. And once on the road, the interior also ranks very well in terms of quietness as compared to some other midsize family sedans.
It should also be noted that the quality of the Fender audio system is especially impressive for those who put a high value on sound systems.
Drive:
The actual road manners of the 2012 VW Passat varies depending on the engine choice. Most drivers will likely be satisfied with the performance of the 2.5-liter five-cylinder, however, it doesn't particularly stand out in this segment. The 2.0-liter turbodiesel in the TDI models, on the other hand, is both quicker around town due to its much more robust low-end torque, while also offering outstanding gas mileage performance. That said, if it has a downside it would be its rather unimpressive highway passing due to its lower horsepower production.
For those who insist on more power, the 3.6-liter V6 engine would make a solid choice thanks to its capable and energetic acceleration. In addition, the DSG automated manual transmission (standard on the V6 and available on turbodiesel models) is smooth and well-timed, making for a responsive performance whether commuting or taking on some of those back twisty roads.
Overall, the Passat possesses an engaging road demeanor thanks to its capable engines, well-tuned suspension, precision steering and very good brakes ... and all while maintaining a comfortable ride for the occupants.
Lastly, Suggestions For Getting The Lowest Price
First of all, here's a Lowest Price Used Car Buying Guide that details a very effective method.
Here's another method that identifies Price-Distressed Cars Right On Dealer Lots. These are vehicles they are so desperate to unload they would welcome your wholesale offer.
In addition, you can also try the Public Car Auctions in your own geographic area. This article reviews what to expect at open-to-the-public car auctions and how to locate them.
And for those of you who might be interested in a "brand new" Passat if the price was crazy good, here's info on exactly How To Get The Best Price On A New Car. This works just phenomenally well.