The 2009 Mazda RX8 is noted for its comfortable drive, agile handling, unique body design, smooth rotary engine, and the fact that it can actually accommodate four adults.

And the 2009 model year brought the RX8's first significant update. There's a new front end featuring a wider grille, as well as a slightly refined rear end. In the interior, the center stack was redesigned and new features were added, including Bluetooth, an auxiliary audio jack and a new touchscreen navigation system. In addition, the performance-oriented RX8 R3 model was added to the lineup.

While the RX8 sports a coupe-like body, a pair of rear-hinged doors that open reversely allow for easy access to a backseat with surprising roominess. Yes, there's comfortable room for four adults in this sports car.

And unlike its many competitors that feature a typical inline-4 or V6 engine under the hood, instead you'll find Mazda's smoothly performing and highly touted rotary engine. The result is a car that drives like no other, with the manual transmission's rotary engine easily spinning up to 9,000 rpm ... and great sounding as well.

Standard Features And Options: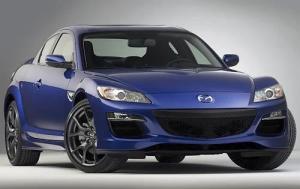 The 2009 Mazda RX-8 is a four-seat coupe offered in four model choices: Sport, Touring, Grand Touring and R3.

Standard features on the already well-equipped Sport model include 18 inch wheels, performance tires, full power accessories, air conditioning, cruise control, a rear lip spoiler (on the manual transmission models only), a leather-wrapped steering wheel and shifter, and a six-speaker stereo with CD player and auxiliary audio jack.

The Touring model has all of the above, plus a limited-slip rear differential, foglights, xenon headlights, an auto-dimming rearview mirror and an in-dash 6-disc CD changer.

The Grand Touring RX8 adds heated front seats, an eight-way power driver seat with memory, leather upholstery, keyless entry, keyless ignition, automatic climate control, rain-sensing wipers, automatic headlights, heated side mirrors, Bluetooth and a nine-speaker Bose surround-sound system.

The all new 2009 RX8 R3 is basically a Touring model with a more aggressively tuned suspension, front sport seats (Recaro), 19 inch wheels, keyless entry and ignition, a revised front bumper, a rear wing spoiler, Bluetooth and the upgraded Bose sound system.

There's also a premium package for the Touring and Grand Touring that adds a sunroof, satellite radio and the Bose stereo (Touring). Also available as an option on the RX-8 Grand Touring is a touchscreen navigation system with voice commands and a dedicated iPod connection.
Engines, Powertrain And Gas Mileage:

Powering the rear-wheel-drive Mazda RX8 is a 1.3 liter rotary engine. When coupled with a six-speed automatic transmission (with paddle shifters), this engine produces 212 horsepower and 152 pound-feet of torque while redlining at 7,500 rpm. Models with the six-speed manual transmission also generate 152 pound-feet of torque, but horsepower is upped to 232 and the engine redlines at a fairly amazing 9,000 rpm.

While still generally quick, the RX8's somewhat low torque levels hamper acceleration a bit. A manual version RX8 goes from a standstill to 60 mph in a respectable, but not super impressive for a sports car, 7 seconds. That said, it has other driving dynamic advantages that offset its somewhat dampened straightline acceleration.

The EPA estimated gas mileage for a manual RX8 comes in at 16 mpg city and 22 mpg on the highway. The automatic RX8 is nearly identical at 16 mpg city and 23 highway.

Safety:

Standard safety features on all RX-8's include antilock brakes (ABS), front side airbags and front side curtain airbags. In addition, stability control is standard on all models except the Sport.

In government crash tests, the RX8 earned four stars (out of five) for driver protection in frontal impacts and five stars for the front passenger. In side-impact testing, the RX8 earned four stars for both the driver and passenger.

Interior:

A big advantage for the RX8 is its real four-passenger seating, something that really sticks out in this segment. Not only is there room for four adults, but the reverse-opening rear doors make the rear seat easily accessible.

The RX-8's cabin is attractive, well-designed and user-friendly. It has a circular theme, with three round gauges as well as circular central dash control stack for the stereo and climate control functions. With other circular and trianguler details also worked into the interior design, it's clearly a theme in keeping with the RX8's rotary engine.

Drive:

Driving performance in the RX8 is strong due to its responsive steering and tight cornering grip. The plus side of the rotary engine requiring high engine speed to harness its best power is a compliant ride during every day commuting with subdued noise levels and vibration-free acceleration. This car is both fun to drive yet everyday livable with its smooth feel.
Price:

2009 Mazda RX-8 Coupe:

Sport, manual: listed retail price: $26,435, invoice price: $24,470
Sport, auto: listed retail price: $26,435, invoice price: $24,470

Touring, manual: listed retail price: $27,860, invoice price: $25,785
Touring, auto: listed retail price: $28,560, invoice price: $26,430

Grand Touring, manual: listed retail price: $31,000, invoice price: $28,681
Grand Touring, auto: listed retail price: $31,700, invoice price: $29,326

RX8 R3, manual: listed retail price: $31,930, invoice price: $29,538
Other Vehicles Of Possible Interest:

Used Mazda RX8
2010 Mazda Miata
2011 Mazda 2
Used Mazda Model Overview
Used Mazda5
Used Mazda Miata
Used Mazda 3
2009 Nissan 370Z


Additional Pages Of Possible Interest:

2009 BMW Z4 Convertible
2010 Infiniti G37
2010 Buick LaCrosse
2011 Mazda 3
2010 Mazda CX-9
2010 Ford Shelby GT500
2009 Mitsubishi Galant
2009 Chrysler 300



Auto Broker Magic
West Palm Beach, Florida
Site Map | Disclosure
© copyright 2009 - 2015, Josh Rosenberg. All Rights Reserved.