With both its top fuel economy and well-designed space efficiency, the 2010 Prius still sits atop the hybrid automobile market. Toss in its comfortable and quiet ride, as well as the availability of both high-tech and luxury features, and this year's Prius is again a force to be reckoned with for those seeking greener transportation.

But Toyota isn't sitting on their laurels. The 2010 Toyota Prius has been fully redesigned for still better gas mileage, more power, better steering, a sleeker look and improved interior controls.

The larger and stronger gasoline engine wasn't designed for faster acceleration from a standstill. Instead, it was designed for easier highway cruising that produces improved fuel economy. In addition, there's now a smaller electric motor. And while this reduces torque, it again also improves efficiency. The net result of these changes is another improvement to what was already enviable fuel efficiency.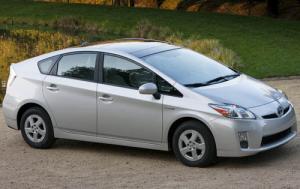 What's more, depending on how you choose to equip it, the new Prius can also become an efficient "luxury" sedan, with features such as a solar powered sunroof (it also cools the cabin when parked), heated leather seats, radar-based adaptive cruise control that sets speed to the car ahead, a navigation system, a pre-collision system that retracts seatbelts and applies the brakes in the case of an unavoidable crash, a lane-departure warning system and an automated self-parking system found in some Lexus vehicles.

Standard Features And Option Packages:

The 2010 Toyota Prius is available in four trims: Prius II, Prius III, Prius IV and Prius V. (There will also be a Prius I which will be released later in the year at a lower base price.)

Standard features on the Prius II include 15 inch alloy wheels, full power accessories, cruise control, a hybrid system display, automatic on/off headlights, keyless entry, keyless ignition, a height-adjustable driver seat, a tilt-telescoping steering column, and a 6-speaker audio system with a CD player and auxiliary audio jack.

The Prius III has all of the above, plus Bluetooth, an 8-speaker upgraded stereo and a 6-disc CD changer.

The Prius IV model then adds heated front seats, a leather interior, additional exterior locking buttons for keyless entry, a driver lumbar adjustment and an auto-dimming mirror.

The top-of-the-line Prius V adds 17 inch alloy wheels, foglamps and LED headlamps with auto-leveling and washers.

There's also a Navigation package (available on all trims except the Prius II) that includes a voice-activated touchscreen navigation system with real-time traffic, a back-up camera, a 4-disc CD changer (as oppsed to the 6) and Bluetooth music streaming. In addition, the Solar Roof package can be added to the Navigation package and includes a sunroof with a solar-powered ventilation system.

Lastly, the Advanced Technology package can also be added to the Navigation package and includes automated self parking, adaptive cruise control, a pre-collision alert system, and a lane departure warning system.
Engines, Powertrain And Gas Mileage:

Powering all models of the 2010 Prius is Toyota's advanced gasoline-electric hybrid powertrain: a combination of a 1.8 liter four-cylinder engine with two electric motors (one for propulsion and one for the electrical systems) and a continuously variable transmission (CVT). The overall result is system that produces 134 horsepower and can move the Prius from a standstill to 60 mph in a respectable 10.1 seconds.

It also produces impressive fuel economy. The EPA gas mileage estimate for the 2010 Prius is 51 mpg city and 48 mpg on the highway. This is up from last year's 48 mpg city and 45 highway.

Safety:

Standard safety features on all 2010 Prius models include antilock disc brakes (ABS), traction control, stability control, front side airbags, side curtain airbags and a driver knee airbag. In addition, optional features include the pre-collision warning and lane-departure warning systems.

Interior:

The cabin of the 2010 Toyota Prius is well-designed, attractive and user-friendly. The somewhat confusing touchscreen climate and audio controls of last year's model have been replaced with straightforward controls that jut out and are easy to use. More legroom has also been added to the front seats while the hatchback design allows for more cargo room than the typical midsize sedan and lots of space in the backseat.

Drive:

The 2010 Prius provides a comfortable and confident drive. It's also extremely quiet due to the part-time electric motor and ample sound insulation. In addition, a Prius weakspot has been addressed this year with a new electric steering system. Stopping distance has also been reduced with disc brakes replacing the previous drums. New driving modes (EV, eco, power and normal) also allow the driver to select how the car's powertrain should be configured based on the current driving situation.
How To Get The Lowest Price:
Best Negotiating Tactic: Well, there's definitely a 'best way' when it comes to new car buying. If you want to get the best bottomline, out-the-door price you need to know exactly who to talk to at the dealership, how to make the contact and how to make this person eager to quickly drop prices as low as possible to get your sale.

Here's the details on exactly how to get the best price on a new Toyota Prius ... or any other car.
Also, For 'Used' Car Buyers ...

Those of you in the market for a used car may want to check out this article about how to buy a used car at the lowest price. It details a super effective buying method, one that often beats down prices to wholesale levels.

And somewhat related to this, here's another excellent method that identifies Price-Distressed Cars Right On Dealer Lots. These are vehicles they are so desperate to unload they would welcome your wholesale offer.

In addition, you can also try Bank Repo And Government Car Auction Possibilities in your own geographic area. While there can be a lot of junk vehicles at these auctions, there are often absolute gems sprinkled in as well. This article reviews what to expect at open-to-the-public car auctions and how to locate them in your own area.
Price:

2010 Toyota Prius Sedan:

II: listed retail price: $22,000, invoice price: $20,900
III: listed retail price: $23,000, invoice price: $21,411
IV: listed retail price: $25,800, invoice price: $24,017
V: listed retail price: $27,270, invoice price: $25,384

Other Models Of Possible Interest:

Pre-owned Toyota Prius Overview & Wholesale Strategies
2011 Toyota Prius Invoice Price And Features Review
2010 Toyota Corolla Feature And Price Information
Used Toyota Camry Info & Auction Sources
2010 Toyota Camry Price And Feature Review
Pre-owned Toyota Corolla Overview & Best Buy Tips


Additional Pages Of Possible Interest:

Review: 2011 Toyota RAV4 Invoice Price And Feature
2010 Toyota Sienna Features And Prices
Toyota 4Runner 2010 Review
Toyota Sienna 2011 Review And Invoice Pricing
Pre-owned Toyota Matrix Overview & Auction Sources
Pre-owned Toyota Model Overview & Best Price Guide


Auto Broker Magic
West Palm Beach, Florida
Site Map | Disclosure
© copyright 2010 - 2021, Josh Rosenberg. All Rights Reserved.