The 2009 Chevy Colorado, a pickup truck now in its sixth year, has moved beyond a vehicle noted for its affordability and composed handling, both onroad and off. With its debut this year of its available 300 horsepower V8 engine, the Colorado is now one of the fastest small pickups on the road.

Also new for 2009 are larger wheels to enhance the off-road-oriented Z71 suspension package, a new on-road-oriented ZQ8 sport suspension package, and revised antilock brakes that shorten stopping distances. Additionally, the Colorado's previous Sport Appearance Package is now standard on all models.

Standard Features And Options:

The 2009 Chevrolet Colorado is classified as a compact pickup, available with either two or four-wheel drive, and offered in three body-styles: regular cab, extended cab (with short reverse-opening doors) and crew cab (with four regular forward-opening doors). All Colorados feature a 6-foot bed except the Crew Cab, which comes with a 5-foot cargo box.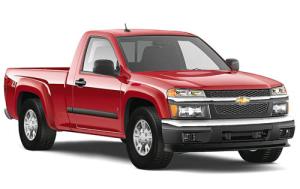 There are three trim levels available on both Regular and Extended Cab models: base Work Truck, midlevel LS, and uplevel LT. The Crew Cab is only available in LT trim.

Base models do not offer a lot of features, but do include air conditioning and an AM/FM stereo system. The LS model features upgraded seating and trim and opens the possibilities of adding more optional features.

The more popular and feature-oriented LT trim is available in three increasingly equipped versions (Extended Cab and Crew Cab only): 1LT, 2LT and 3LT. Depending on your model choice, features will include full power accessories, remote keyless entry, satellite radio, an in-dash CD changer, and a larger five-cylinder engine.

There's a new value package (VL) that includes the five-cylinder engine and full power accessories, as well as an automatic transmission on the Crew Cab.

There are also three available suspension packages to meet the buyer's specific needs: the standard Z85, a Z71 off-road package and the new ZQ8 sport suspension with 18 inch wheels. Other stand-alone options, depending on the trim and body style, include a sunroof, heated seats, and a leather interior.
Engines, Powertrain And Gas Mileage:

Powering the Colorado is a capable 2.9 liter four-cylinder engine that produces 185 horsepower and 190 pound-feet of torque. Also available as an option is a 3.7 liter inline-5 that delivers 242 horsepower and 242 lb-ft of torque. And available on Extended Cab and Crew Cab models is the 5.3 liter V8 that makes 300 horsepower and 320 lb-ft of torque.

Standard on most four-cylinder Colorado models is a five-speed manual transmission with an optional four-speed automatic. The five-cylinder and V8 models come standard with the automatic transmission. In addition, four-wheel-drive models are equipped with a two-speed InstaTrac transfer case with push-button controls, and are also offered with an optional locking rear differential.

EPA gas mileage estimates come in at 18 mpg city and 24 mpg on the highway for both manual and automatic four-cylinder Regular Cab models. Gas mileage drops to 16 mpg city and 22 highway on a 4WD Crew Cab with the inline-5 engine. Models with the 4WD V8 are rated at 14 mpg city and 19 mpg highway.

A properly equipped Colorado with the V8 engine has a very respectable tow capacity of 6,000 pounds.

Safety:

Standard safety features on all Colorados include the new braking system with antilock brakes (ABS), traction control, and the OnStar emergency communications system. In addition, head-protecting side curtain airbags are available as an option.

In government crash testing, the Chevrolet Colorado Crew Cab earned a perfect five stars for both driver protection and front passenger protection in frontal-impact tests. Other Colorado models received four stars for frontal impacts. In side-impact tests, the Colorado received four stars for front-occupant protection and five stars for rear passengers in Crew Cab models.

Interior:

The 2009 Colorado has a simple and straightforward interior design. While not trying to impress with fancy features and materials, the cabin is attractive and practical with a well-planned control and gauge layout. Comfort is also a strong point in the front where there's plenty of legroom, while Extended Cab and Crew Cab rear seats are on the tight side, as one might expect in a compact truck.

Drive:

The engines are reasonably smooth in the Colorados with the inline four and five-cylinder engines, and acceleration is particularly strong in the V8. The four-speed automatic transmission, while not offering as many gears as some of its competitors, is also smooth and well-timed. The Colorado is also surprising quiet around town. For upgraded performance, both the Z71 or the ZQ8 suspension packages are solid additions.
Price:

2009 Chevrolet Colorado Regular Cab:

Work Truck, RWD: listed retail price: $16,705, invoice price: $15,953
Work Truck, 4WD: listed retail price: $20,210, invoice price: $19,301
LT, RWD: listed retail price: $17,830, invoice price: $16,849
LT, 4WD: listed retail price: $21,335, invoice price: $20,162

2009 Chevrolet Colorado Extended Cab:

Work Truck, RWD: listed retail price: $18,950, invoice price: $18,097
Work Truck, 4WD: listed retail price: $22,250, invoice price: $21,249
LT, RWD: listed retail price: $20,405, invoice price: $19,283
LT, 4WD: listed retail price: $23,505, invoice price: $22,212
VL, 4WD: listed retail price: $20,525, invoice price: $19,396

2009 Chevrolet Colorado Crew Cab:

VL, RWD: listed retail price: $23,025, invoice price: $21,759
LT, RWD: listed retail price: $23,330, invoice price: $22,047
LT, 4WD: listed retail price: $26,940, invoice price: $25,458

Other Models Of Possible Interest:

Used Chevy Trucks At Wholesale
2010 Chevy Malibu Prices And Features Information
Chevy Suburban SUVs At Wholesale
Wholesale Chevy Silverado Truck Models
Other Chevy Models At Wholesale
2010 Chevy Avalanche Feature And Review
2010 Chevy Corvette Invoice And Feature Info
Used Dodge Ram Buyer's Guide


Additional Pages Of Possible Interest:

Used Toyota Tundra Overview
Used Nissan Titan Guide
Used Ford Truck Overview
Used Ford F-150 Shopping Help
Used Chevy Silverado Info & Best Buy
Used Ford Ranger Guide
Used Dodge Dakota Buyers Guide



Auto Broker Magic
West Palm Beach, Florida
eMail Auto Broker Magic | Site Map
© copyright 2009 - 2013, Josh Rosenberg. All Rights Reserved.