Other Resources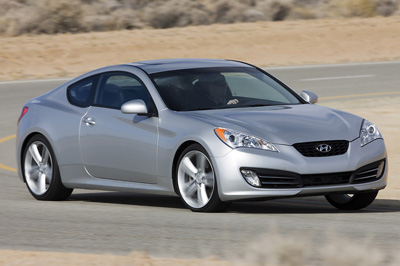 2010 Honda Accord
Features And Prices




Related: How To Buy A New Accord At The Best Possible Price




With its solid reputation for longterm durability, the 2010 Honda Accord is again a well-built vehicle that will likely provide years of satisfying service to its owners. Add in its comfortable and spacious interior, attractive design, upscale feel and strong resale value, and the new Accord is again a force to be reckoned with.

Another big plus is the fact that the Accord is one of the few vehicles in this segment that's also offered in a sportier coupe body style, particularly appealing for those seeking additional handling prowess, especially when equipped with the optional V6 engine and six-speed manual transmission.

Changes for the 2010 model year are few and consist of a couple of fairly minor upgrades for the top-of-the-line EX models, including rear seat ventilation ducts for EX and EX-L sedans, Bluetooth connectivity for all EX-Ls and a trunk lid liner for all EX models.

Standard Features And Options:

The 2010 Honda Accord sedan is available in LX, LX-P, EX and EX-L trims, while the coupe is offered in LX-S, EX and EX-L trims.

Standard features on the base LX sedan include 16 inch steel wheels, full power accessories, keyless entry, cruise control, a tilt/telescoping steering wheel, fold-down rear seats and a 6-speaker stereo with a CD/MP3 player and an auxiliary audio jack

Standard features on the LX-P sedan then add 16 inch alloy wheels, a power driver seat and auto up-down front windows.

The base LX-S coupe model comes with the same features as the LX-P, except for the passenger-side auto-up window and power driver seat, but it adds an in-dash 6-disc CD changer.

The EX model then upgrades with 17 inch wheels and a sunroof for both the coupe and sedan. In addition, the EX sedan gets the 6-disc in-dash CD changer while the EX coupe comes with a premium sound system with a subwoofer.

The top-of-the-line EX-L model adds heated front seats, leather upholstery, a leather-wrapped steering wheel, Bluetooth, satellite radio, dual-zone automatic climate control and automatic headlights. The EX-L sedan is also equipped with the premium stereo system from the EX coupe and the EX-L coupe comes with the power driver seat.

The only available option is a navigation system with voice-activated controls that is available on EX-L models only.

Engines, Powertrain And Gas Mileage:

Powering the LX and LX-P sedans is a 2.4 liter four-cylinder engine that produces 177 horsepower and 161 pound-feet of torque. EX sedans and all of the coupes get an upgraded version of that engine that generates 190 horsepower. The standard transmission for the four-cylinder engines is a five-speed manual, while a five-speed automatic is optional.

Also available on EX models is a 3.5 liter V6 engine that delivers 271 horsepower and 254 lb-ft of torque (251 lb-ft on manual-shift V6 coupes). V6 sedans are only available with the five-speed automatic transmission, while a six-speed manual is a no-cost option on V6 coupes.

The EPA gas mileage estimates for 2010 four-cylinder Accords with the automatic transmission come in at 21 mpg city and 30 mpg on the highway. Manual transmission versions are rated slightly higher at 22 mpg city and 31 highway. Automatic six-cylinder models are estimated at 19 mpg city and 29 mpg highway (28 in coupes). The manual-shift V6 coupe doesn't have the cylinder-deactivation system so its mileage drops to 17 mpg city and 25 mpg highway.

Safety:

Standard safety features on all 2010 Accord models include antilock disc brakes (ABS), traction control, stability control, front side airbags and full-length side curtain airbags.

In government crash testing, the Accord sedan was awarded a perfect five out of five stars for front passenger protection in both frontal and side impacts. However, it also earned only three stars for rear passenger side-impact protection. The Accord coupe earned five stars across the board except for side-impact protection for front passengers where it received four stars.

Interior:

The 2010 Accord's cabin is once again one of its strong points. The overall design is attractive and user-friendly with a solid build quality and generally higher-grade material components. Driving around in comfort and style in clearly a top priority for the Accord.

There's also very generous passenger room, especially in the sedan's rear passenger area. This comfortable interior roominess, howver, comes at somewhat of a sacrifice to cargo capacity, which comes in at a fairly average 14 cubic-feet. Trunk cargo space in the coupe comes in at 11.9 cubic-feet.

Drive:

The Accord is engineered to emphasize comfort over athleticism, and it succeeds. That said, the Accord still possesses nicely weighted and responsive steering. Not surprisingly, the Accord coupe's driving performance and handling is significantly better. The V6 engine provides plenty of power when needed and the noise insulation, while not outstanding, is adequate and unobjectionable.

While there's really nothing remarkable about the four-cylinder engine, its performance is fine and will satisfy most drivers. However, more refinement is offered with the upgraded 190 horsepower version while still getting similar fuel economy.

How To Get The Lowest Price:

Best Negotiating Tactic: Well, there's definitely a 'best way' when it comes to new car buying. If you want to get the best bottomline, out-the-door price you need to know exactly who to talk to at the dealership, how to make the contact and how to make this person eager to quickly drop prices as low as possible to get your sale.

Here's the details on exactly how to get the best price on a new Honda Accord ... or any other car.

Also, For 'Used' Car Buyers ...

Those of you in the market for a used car may want to check out this article about how to buy used cars at the best price. It details a super effective buying method, one that often beats down prices to wholesale levels.

And somewhat related to this, here's another excellent method that identifies Price-Distressed Cars Right On Dealer Lots. These are vehicles they are so desperate to unload they would welcome your wholesale offer.

In addition, you can also try Bank Repo Cars And Government Auction Vehicles in your own geographic area. While there can be a lot of junk vehicles at these auctions, there are often absolute gems sprinkled in as well. This article reviews what to expect at open-to-the-public car auctions and how to locate them at no cost in your own area.

Prices:

2010 Honda Accord Sedan:

LX, manual: dealer price: $21,055, invoice price: $19,101
LX, auto: dealer price: $21,855, invoice price: $19,823

LX-P, manual: dealer price: $22,055, invoice price: $20,024
LX-P, auto: dealer price: $22,855, invoice price: $20,727

EX, manual: dealer price: $23,830, invoice price: $21,608
EX, auto: dealer price: $24,630, invoice price: $22,331
EX V6, auto: dealer price: $26,805, invoice price: $24,296

EX-L, manual: dealer price: $26,030, invoice price: $23,596
EX-L, auto: dealer price: $26,830, invoice price: $24,319
EX-L V6, auto: dealer price: $29,105, invoice price: $26,375


2010 Honda Accord Coupe:

LX-S, manual: dealer price: $22,555, invoice price: $20,456
LX-S, auto: dealer price: $23,355, invoice price: $21,179

EX, manual: dealer price: $23,880, invoice price: $21,653
EX, auto: dealer price: $24,680, invoice price: $22,376

EX-L, manual: dealer price: $26,080, invoice price: $23,641
EX-L, auto: dealer price: $26,880, invoice price: $24,364
EX-L V6, manual: dealer price: $29,305, invoice price: $26,555
EX-L V6, auto: dealer price: $29,305, invoice price: $26,555


Other Models Of Possible Interest:

Used Honda Accord Auction Info
2013 Honda Accord Pros + Cons
Honda Accord 2012 Review
2011 Honda Accord Information
Review: 2011 Honda Civic
Used Honda Fit Buying Guide
Used Honda Civic Wholesale Auction Sources
Used Honda Model Info & Wholesale Auction Sources


Additional Pages Of Possible Interest:

2010 Ford Taurus Overview
2010 Toyota Corolla Price Information
2010 Chevy Malibu Overview
2010 Toyota Camry Review
2010 Mazda 3 Overview
2010 Ford Fusion Feature Review
2010 Toyota Prius Overview
2010 Hyundai Sonata Overview



Auto Broker Magic
West Palm Beach, Florida
Site Map | Disclosure
© copyright 2009 - 2013, Josh Rosenberg. All Rights Reserved.