Other Resources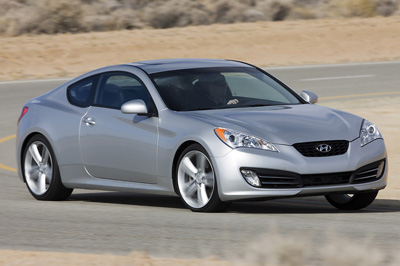 We don't just talk cars ... we teach how to buy them.

2010 Volkswagen Jetta Features
Review And Prices


(See Also: How To Get The Best Deal On A New Jetta)




The 2010 Volkswagen Jetta is the lowest priced "European" sedan or wagon available in the United States. It represents European style, technology and performance at a discount. And it increases its appeal with a wide range of trim levels and powertrains.

The bottom line is the 2010 Jetta offers refinement and high-build quality in the compact segment, as well as comfortable seating, abundant cargo capacity, capable handling, and an impressive and fuel efficient diesel model.

And new for the 2010 model year is an updated instrument panel, new interior trim, a new radio and a new climate control system. Most models were also recipients of standard Bluetooth connectivity and a new leather-wrapped, multifunction steering wheel. In addition, an iPod connection is now offered as a separate option as opposed to requiring the navigation system.

New trims this year include the Limited Edition and the TDI Cup "Street" Edition, while the SportWagen SEL (with the turbocharged engine) and the sport-tuned GLI have been dropped.

As alternative choices, Jetta shoppers may want to compare lower Jetta sedan trims to economy cars such as the Mazda 3 or Honda Civic, while higher trims can be compared with entry-level luxury sedans such as the Volvo S40 or midsize sedans like the Nissan Altima or Ford Fusion.

While the Jetta is certainly a solid choice in comparison, the TDI is a strong alternative to hybrids and the SportWagen is worthy of serious consideration when shopping for a wagon or small crossover SUV.

Trims, Standard Features And Options:

The 2010 Volkswagen Jetta is offered in sedan and wagon forms. The sedan is available in seven trims: S, Limited, SE, SEL, Wolfsburg Edition, TDI and TDI Cup "Street" Edition. The SportWagen is offered in three trims: S, SE and TDI.

Standard features on the already well-equipped Jetta S include full power accessories, cruise control, heated front seats, air conditioning, keyless entry, heated mirrors and washer nozzles, 16 inch steel wheels, 8-way-adjustable front seats with power recline, a tilt/telescoping steering column, a 60/40-split rear seat and an 8-speaker audio system with a CD player (single) and auxiliary audio jack.

The Jetta Limited then adds a leather-wrapped steering wheel and shift knob, leatherette vinyl upholstery, 16 inch alloy wheels and Bluetooth, while the SE adds a sunroof (in the sedan only), a rear-seat armrest, a 10-speaker audio system with a 6-disc CD changer and satellite radio, and most of the Limited's equipment on the SportWagen SE.

The Jetta SEL sedan then adds a multifunction steering wheel, 17 inch wheels, a trip computer and iPod integration.

The Jetta TDI sedan comes with features similar to the SEL sedan but has 16 inch alloy wheels and doesn't have a sunroof. The TDI Cup "Street" Edition adds a sport-tuned suspension (from the GLI), larger brakes with red calipers, a sport body kit, 18 inch wheels with all-season performance tires, cloth sport seats and paddle shifters when equipped with the DSG transmission.

The SportWagen TDI is equipped like the SportWagen SE, but adds a trip computer.

The Jetta Wolfsburg Edition is outfitted similar to the SE sedan plus a turbocharged engine, 17 inch wheels, Wolfsburg badges and without exterior chrome window trim.

An aerodynamic body kit and rear side airbags are optional features on all Jettas except the Wolfsburg). A touchscreen navigation system which includes a 30GB hard drive, digital music storage, USB port, DVD playback and an SD memory card slot is available on all models except the Jetta S. Stand-alone options include a panoramic sunroof on the SportWagen and Bluetooth and a dedicated iPod connection on the S, SE and TDI models.

Engines, Powertrain And Gas Mileage:

The 2010 VW Jetta offers a choice of three engines. Powering all S, Limited and SE models, plus the SEL sedan, is a 2.5 liter five-cylinder engine that produces 170 horsepower and 177 pound-feet of torque. It's paired with the standard 5-speed manual transmission, while a 6-speed automatic with manual shift control is optional.

The EPA-estimated gas mileage for this engine with an automatic engine comes in at a very respectable 23 mpg city and 30 mpg on the highway. The manual transmission gets 1 less mpg in the city. This engine has also earned a super-clean PZEV tailpipe emissions rating in California-emissions states.

Under the hood of the 2010 Jetta Wolfsburg Edition sedan is a turbocharged 2.0 liter four-cylinder engine (the same that powered the sport-tuned GLI) that delivers a healthy 200 horsepower and 207 lb-ft of torque. A 6-speed manual transmission is standard on the Wolfsburg, while Volkswagen's dual-clutch DSG automatic transmission is optional.

The Wolfsburg is the quickest Jetta and can go from a standstill to 60 mph in the 7-second range. The gas mileage for this turbo engine is rated at 21 mpg city and 31 mpg highway, while the numbers with the DSG come in at an impressive 24 city and 32 highway.

The most fuel efficient Jetta is the TDI, featuring a 2.0 liter turbodiesel engine, compliant with all 50 states' emissions requirements, that generates 140 horsepower and a robust 236 lb-ft of torque. It has the same transmission choices as the Wolfsburg and is EPA rated at 30 mpg city and 41 mpg highway with the manual and 30 and 42, respectively, with the DSG.

Safety:

Standard safety features on all Jettas include traction control, stability control, antilock brakes (ABS), front side airbags and full-length side curtain airbags. In addition, rear side airbags are an available option on all models except the Wolfsburg.

In government crash testing, both the Jetta sedan and SportWagen were given a perfect five stars for side-impact protection and four stars for frontal-impact protection.

Interior:

Another strong attribute of the 2010 Jetta is its attractive, user-friendly and solidly-constructed cabin, featuring high-quality and soft-touch materials along with metallic accents. The vinyl "leatherette" upholstery found in most Jettas is nearly as good as the real thing, while being easier to clean. The blue lights of the instruments and audio display add to the upscale look and feel of the interior, and the stereo and climate controls are clear and easy to use.

Seating is comfortable and supportive both front and rear. The Jetta has a tall roof line for added roominess, particularly for the front seats. However, while there is adequate legroom in the rear, the headroom is a little tight for taller passengers. The Jetta's cargo capacity is impressive given its size, coming in 16 cubic feet of trunk space. The SportWagen boasts 32.8 cubic feet with the 60/40-split rear seat up and 66.9 cubic feet when down. That's significantly more than VW's own Tiguan compact SUV.

Drive:

While the 2010 Jetta possesses decent handling abilities, it is engineered to emphasize driving comfort over sporty performance. The Jetta does a very good job in providing a relatively quiet cabin as well as capably handling roadbumps and rough spots. The steering is responsive and nicely weighted, and there's plenty of power for most situations, making the jetta a solid performer in day-to-day driving.

The TDI, on the other hand, offers a lot more power and is even downright muscular off the line due to its significant low-end torque. That said, you should expect a little more noise and vibration, as well as a bit of highway-passing lag as the higher-end torque, while adequate, isn't as robust. Most drivers, however, will be more than pleased with its overall road manners and the fuel economy is outstanding.

How To Get The Lowest Price:

Best Negotiating Tactic: Well, there's definitely a 'best way' when it comes to new car buying. If you want to get the best bottomline, out-the-door price you need to know exactly who to talk to at the dealership, how to make the contact and how to make this person eager to quickly drop prices as low as possible to get your sale.

Here's the details on exactly how to get the best price on a new Volkswagen Jetta ... or any other car.

Also, For 'Used' Car Buyers ...

Those of you in the market for a used car may want to check out this article about how to buy a used car at the lowest price. It details a super effective buying method, one that often beats down prices to wholesale levels.

And somewhat related to this, here's another excellent method that identifies Price-Distressed Cars Right On Dealer Lots. These are vehicles they are so desperate to unload they would welcome your wholesale offer.

In addition, you can also try Bank Repo Car Auctions And Government Auto Auctions in your own geographic area. While there can be a lot of junk vehicles at these auctions, there are often absolute gems sprinkled in as well. This article reviews what to expect at open-to-the-public car auctions and how to locate them at no cost in your own area.

Prices:

2010 Volkswagen Jetta Sedan:

S, manual: list price: $17,735, invoice price: $17,073
S, automatic: list price: $18,835, invoice price: $18,172

Limited Edition, manual: list price: $18,295, invoice price: $17,608
Limited Edition, automatic: list price: $19,395, invoice price: $18,707

SE, manual: list price: $20,550, invoice price: $19,395
SE, automatic: list price: $21,650, invoice price: $20,494

Wolfsburg Edition, manual: list price: $22,165, invoice price: $20,907
Wolfsburg Edition, auto/manual: list price: $23,265, invoice price: $22,006

TDI, manual: list price: $22,830, invoice price: $21,528
TDI, auto/manual: list price: $23,930, invoice price: $22,627

SEL, automatic: list price: $23,455, invoice price: $22,182

TDI Cup Edition, manual: list price: $24,990, invoice price: $23,552
TDI Cup Edition, auto/manual: list price: $26,090, invoice price: $24,651


2010 Volkswagen Jetta Wagon:

SportWagen S, manual: list price: $19,510, invoice price: $18,816
Sportwagen S, automatic: list price: $20,610, invoice price: $19,915

Sportwagen SE, automatic: list price: $23,240, invoice price: $21,757

SportWagen TDI, manual: list price: $24,615, invoice price: $23,200
SportWagen TDI, auto/manual: list price: $25,715, invoice price: $24,299


Other Models Of Possible Interest:

Used Volkswagen Jetta Buying Guide
Review: 2013 Volkswagen Jetta Pros, Cons, Prices
Review: 2012 VW Jetta Features And Invoice Pricing
2011 Volkswagen Jetta Features And Price Review
2011 Volkswagen CC Invoice Prices And Features Review
2011 Volkswagen Golf Invoice Price And Features Review


Additional Models Of Possible Interest:

2011 Volkswagen Tiguan Invoice Price And Features Info
2010 Volkswagen Passat Features And Invoice Price
Used Volkswagen Beetle Overview & Wholesale Strategies
Used Volkwagen Passat Info & Auction Sources
Used Volkswagen Model Info & Best Price Tips
2010 Volkswagen CC Features And Invoice



Auto Broker Magic
West Palm Beach, Florida
Site Map | Disclosure
© copyright 2010 - 2013, Josh Rosenberg. All Rights Reserved.